Mitsubishi Outlander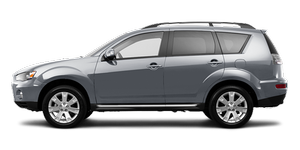 Debuting a few years after the start of the new millennium, the first-generation Mitsubishi Outlander was a late arrival to the small-SUV segment. Like many of its peers, it had a car-based design that translated into good handling and a comfortable ride on paved roads, but limited off-road capability. With so many competitors, Mitsubishi tried to set the Outlander apart with distinctive styling and a sporty demeanor.
See also:
Overview
Doors: The car Mitsubishi Carisma was made only in option with 5 doors. Seats: The salon of the car has 5 seats. Mitsubishi Carisma was issued with the following types of a body: hatchback (lift ...
Pregnant women restraint
WARNING • Seat belts work for everyone, including pregnant women. Pregnant women should use the available seat belts. This will reduce the likelihood of injury to both the woman and the unborn ...
How to change a tyre
Before changing a tyre, first stop your vehicle in a safe, flat location. 1. Park the vehicle on level and stable ground, free of loose pebbles, etc. 2. Set the parking brake firmly. 3. On vehicles ...