To use the external audio input function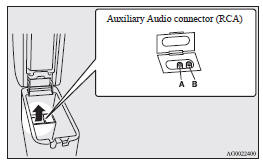 Auxiliary Audio connector (RCA)

A- Left audio input connector (white)
B- Right audio input connector (red)
You can listen to commercially available audio equipment, such as a portable audio system, from your vehicle's speakers, by connecting the audio equipment to the audio input connectors, which are external input connectors (pin jacks).
To activate the external audio input mode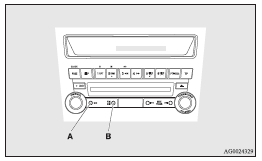 A- CD button
B- AM/FM button
1. Use a commercially available audio cable to connect the audio equipment to the internal audio input connector.
2. Press the CD button for more than 2 seconds.
The display will show "AUX" and then the external audio input mode will be activated.
3. To deactivate the external audio input mode, press the AM/FM button or the CD button to switch to another mode.

CAUTION
• Do not operate the connected audio equipment while driving.
This could distract you and an accident might occur.

NOTE
• The connected audio equipment cannot be operated with the vehicle's audio system.
• For information on how to connect and operate the audio equipment, refer to the owner's manual for the equipment.
See also:
Front turn-signal lamps
1. Remove the clips (A) and clips (B), then remove the duct (C) and the upper cover (D). 2. Remove the entire socket and bulb assembly (E) by turning it anticlockwise. : Front of the vehicle ...
Exterior and interior lamp operation
Operate the combination lamp switch to check that all lamps are functioning properly. If the lamps do not illuminate, the probable cause is a blown fuse or defective lamp bulb. Check the fuses fir ...
Rheostat (meter illumination control)
The rheostat can be adjusted while the lamp switch is "" or "". Turn the dial to adjust the meter illumination to the desired brightness. 1- To increase brightness 2- To reduce brightne ...