Ashtray

CAUTION
• Put out matches and cigarettes before they are placed in the ashtray.
• Don't put papers and other things that burn into your ashtrays. If you do, cigarettes or other smoking materials could set them on fire, causing damage.
• Always close the ashtray. If left open, other cigarette butts in the ashtray may be rekindled.
To use the ashtray, open the lid.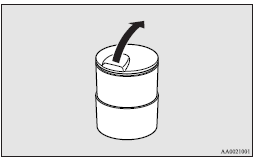 Moveable ashtray secure holder
The moveable ashtray can be fitted at the indicated position.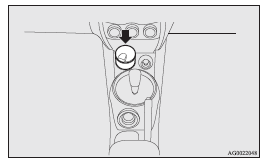 CAUTION
• The moveable ashtray secure holder should never be used as a cup holder.
Drinks could be spilled over the cigarette lighter by the vibration and jolts while driving, causing an electric shock.
See also:
Radio control panel and display
1- PWR (On-Off) switch 2- AM/FM (FM/MW/LW selection) button 3- Memory select buttons 4- TUNE switch 5- SEEK (Up-seek) button 6- SEEK (Down-seek) button 7- FM (FM1/FM2/FM3) indicator 8- ST ( ...
Fuse load capacity
The fuse capacity and the name of the electrical systems protected by the fuses are indicated on the inside of the coin box located at the driver's leg area and on the fuse box lid for fuses l ...
Old Dog, Few Tricks
The Lancer's angular, stocky appearance still looks good in an aggressive way, though it's bordering on dated when lined up against the new Focus or Mazda3. The GT borrows front styling from the t ...