Ashtray

CAUTION
• Put out matches and cigarettes before they are placed in the ashtray.
• Don't put papers and other things that burn into your ashtrays. If you do, cigarettes or other smoking materials could set them on fire, causing damage.
• Always close the ashtray. If left open, other cigarette butts in the ashtray may be rekindled.
To use the ashtray, open the lid.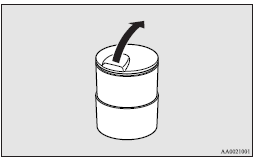 Moveable ashtray secure holder
The moveable ashtray can be fitted at the indicated position.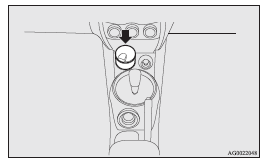 CAUTION
• The moveable ashtray secure holder should never be used as a cup holder.
Drinks could be spilled over the cigarette lighter by the vibration and jolts while driving, causing an electric shock.
See also:
The front airbags and driver's knee airbag MAY DEPLOY when…
The front airbags and driver's knee airbag may deploy if the bottom of the vehicle suffers a moderateto- severe impact (undercarriage damage). Examples of some typical conditions are shown in the ...
Reverse Parking Distance Warning settings
Reverse Parking Distance Warning will help warn the driver if a person, an animal or an object is detected within a certain distance when the vehicle is moving in reverse. Detecting sensor R ...
How does the air bag system operate?
* The actual air bags in the vehicle may differ from the illustration. Driver's front air bag Passenger's front air bag Side air bag Curtain air bag Even in vehicles with air ...