Bonnet
To open
1. Pull the release lever towards you to unlock the bonnet.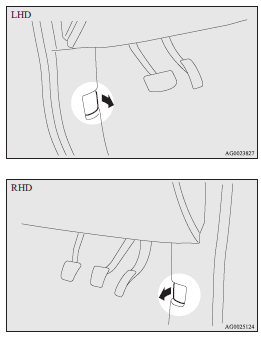 2. Raise the bonnet while pressing the safety lock.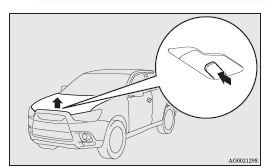 NOTE
• Only open the bonnet when the wipers are in the parked position. In any other position, the wipers could damage the paint or bonnet.
3. Support the bonnet by inserting the support bar in its slot.

CAUTION
• Note that the support bar may disengage the bonnet if the open bonnet is lifted by a strong wind.
• After inserting the support bar into the slot, make sure the bar supports the bonnet securely from falling down on to your head or body.
To close
1. Unlatch the support bar and clip it in its holder.
2. Slowly lower the bonnet to a position about 20 cm above the closed position, then let it drop.
3. Make sure the bonnet is securely locked by softly lifting the centre of the bonnet.

CAUTION
• Be careful that hands or fingers are not trapped when closing the bonnet.
• Before driving, make sure that the bonnet is securely locked. An incompletely locked bonnet can suddenly open while driving. This can be extremely dangerous.

NOTE
• If this does not close the bonnet, release it from a slightly higher position.
• Do not press down the bonnet hard with a hand as it may damage the bonnet.
• For vehicles equipped with the security alarm system with the interior alarm sensor, if you drive with the bonnet left open, warning display is displayed on the information screen in the multi-information display.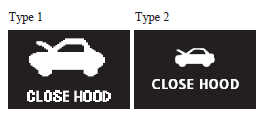 See also:
Vehicles with Sports mode
The transmission has 4 forward gears and 1 reverse gear. The individual gears are selected automatically, depending on the position of the gear selector lever, the speed of the vehicle and the po ...
Cancelling the system
The following methods can be used to cancel the system when it is in the system preparation mode or the system armed mode. • Pressing the UNLOCK switch on the remote control switch. • Turning ...
Refill capacities
NOTE: ● Points requiring routine inspection or replenishment such as the engine oil, washer fluid and brake/clutch fluid are marked white for easy identification. ...