Washer fluid
Open the washer fluid reservoir cap and check the level of washer fluid with the dipstick.
If the level is low, replenish the container with washer fluid.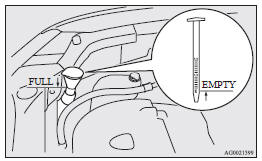 NOTE
• The washer fluid container serves the windscreen, rear window and headlamps (if so equipped).
During cold weather
To ensure proper operation of the washers at low temperatures, use a fluid containing an anti-freezing agent.