For smooth gearchanging
Depress the clutch pedal completely.
1st and 2nd gear: first move the gear lever fully left and then forward or back into 1st and 2nd gear.
3rd and 4th gear: move the gear lever forward or back from neutral (N).
5th gear: first move the gear lever right and then into 5th gear.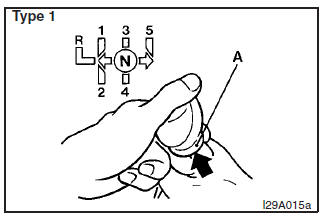 Reverse gear (R) (Type 1): Lift the lock knob (A) under the gear lever knob with two fingers, move the gear lever to the far left and then forward into reverse.
Reverse (R) gear (Type 2): First move the gear level fully right and then backward into reverse.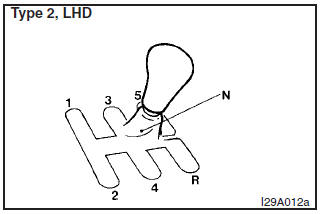 CAUTION
(1) Do not move the gearshift lever into reverse while the vehicle is moving forward; doing so will damage the transmission.
(2) Do not rest your foot on the clutch pedal while driving as this will cause premature clutch wear or damage.
NOTE
(1) If it is hard to shift into 1st, depress the clutch pedal again; the shift will then be easier to make.
(2) To shift into reverse from 5th gear, move the gearshift lever to the "N" position (Neutral) and then shift it into reverse. (Type 2)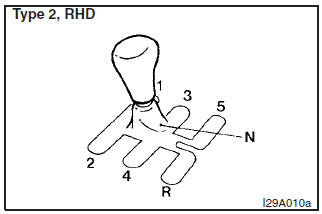 See also:
Outside rear-view mirror
On the driver's seat side, a compound curved-surface mirror is used, while on the front passenger's seat side, a single curvedsurface mirror is used. The compound curved-surface mirror has di ...
Genuine parts
Don't play around with substitutes. MITSUBISHI has gone to great lengths to bring you a superbly crafted vehicle offering the highest quality and dependability. Don't reduce that quality and de ...
Phone book function
The Bluetooth® 2.0 interface has 2 types of unique phone books that are different from the phone book stored in the cellular phone. They are the vehicle phone book and the mobile phone book. The ...