A/T mode changeover switch (Except for vehicles with Sports mode)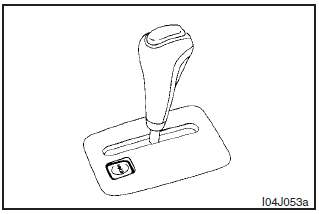 Two drive modes, "AUTO" and "HOLD", can be selected.
Each time you press the switch, the "AUTO" and "HOLD" modes will switch alternately. When the "HOLD" mode is selected, the "HOLD" indicator illuminates on the instrument panel.
AUTO
Select this position for normal driving.
In this position, your vehicle runs with economical fuel consumption when the accelerator pedal is depressed moderately, and runs powerfully when the pedal is depressed heavily.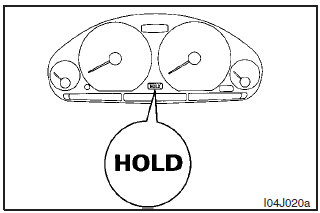 HOLD
Select the "HOLD" mode when starting your vehicle on a slippery road surface for example snow, and the vehicle will start smoothly.
If you start your vehicle with the selector lever in other than the "L" position, the vehicle starts in 2nd gear.
When the vehicle speed reaches between 20 to 50 km/h, the gear is fixed in the highest gear of the selected lever position.
(For example, if you select "D" position, the vehicle starts in 2nd gear. As the vehicle speed increases, the gear is shifted up and when the vehicle speed exceeds approximately 50 km/h, the gear enters the 4th and held in the 4th.) Therefore, you can drive like driving the vehicle with manual transmission by fully using the selector lever positions. In the "HOLD" mode, depressing the accelerator pedal fully also causes the kick-down operation.
See also:
Safety mechanism
If a hand or head is trapped in the closing sunroof, it will re-open automatically. Nonetheless, make sure that nobody puts their head or hand out of the sunroof when opening or closing. The opene ...
SRS servicing
Warning ► We recommend any maintenance performed on or near the components of the SRS to be performed by a MITSUBISHI MOTORS Authorized Service Point. Improper work on the SRS components or ...
Hill start assist
The hill start assist makes it easy to start off on a steep uphill slope by preventing the vehicle from moving backwards. It keeps the braking force for about 2 seconds when you move your foot fro ...