Demisting of the windscreen and door windows
CAUTION
For safety, make sure you have a clear view through all windows.
To remove frost or mist from the windscreen and door windows, use the mode selection dial ("

" or "

").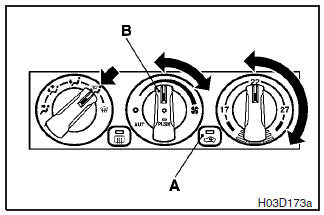 - To keep the windscreen and door windows clear of mist, and to keep leg area heating (when driving in rain or snow).
1- Set the air selection switch (A) to the outside position.
2- Set the mode selection dial to the "

" position.
3- Select the desired blower speed by turning the blower speed selection dial.
4- Select the desired temperature by turning the temperature control dial.
5- Push the air conditioning switch (B).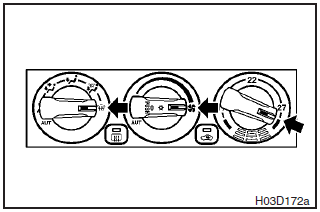 - For quick demisting
1- Set the mode selection dial to the "

" position.
2- Set the blower speed to the maximum blower speed position.
3- Set the temperature to the maximum temperature position.
NOTE
(1) While the mode selection dial is set to the "

" position, the air conditioning will operate automatically and the outside air position will also be selected automatically. This is done for optimum performance.
(2) To demist effectively, direct the air flow from the side ventilators toward the door windows.
(3) Do not set the temperature control dial around the max. cool position. Cool air will blow against the window glasses and form mist on them.
See also:
Vanity mirror
A vanity mirror is fitted to the rear of the sun visor on the passenger side. ...
Handling of compact discs
• Use only the type of compact discs that have the mark shown in the illustration below. (Playback of CD-R or CD-RW discs may cause problems.) • The use of special shaped, damaged compact di ...
Control panel
A- Temperature control dial B- Air selection switch C- Blower speed selection dial D- Air conditioning switch E- Mode selection dial F- Rear window demister switch NOTE • On vehicles with ...