Demisting of the windscreen and door windows
CAUTION
For safety, make sure you have a clear view through all windows.
To remove frost or mist from the windscreen and door windows, use the mode selection dial ("

" or "

").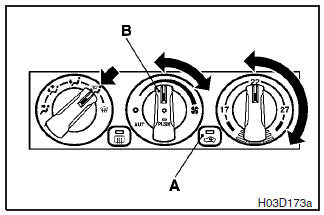 - To keep the windscreen and door windows clear of mist, and to keep leg area heating (when driving in rain or snow).
1- Set the air selection switch (A) to the outside position.
2- Set the mode selection dial to the "

" position.
3- Select the desired blower speed by turning the blower speed selection dial.
4- Select the desired temperature by turning the temperature control dial.
5- Push the air conditioning switch (B).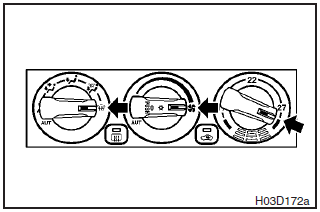 - For quick demisting
1- Set the mode selection dial to the "

" position.
2- Set the blower speed to the maximum blower speed position.
3- Set the temperature to the maximum temperature position.
NOTE
(1) While the mode selection dial is set to the "

" position, the air conditioning will operate automatically and the outside air position will also be selected automatically. This is done for optimum performance.
(2) To demist effectively, direct the air flow from the side ventilators toward the door windows.
(3) Do not set the temperature control dial around the max. cool position. Cool air will blow against the window glasses and form mist on them.
See also:
Average fuel consumption
This value shows the average fuel consumption (in L/100 km or mpg) since the display was reset. If you reset the display at the time when you want to start the measurements, average fuel consump ...
Front fog lamps (Type 1)
1. Remove the screw (A) and pull the cover out. 2. Remove the screws (B) and pull the entire lamp unit out. Note ► When unfastening the screws, be careful not to mistakenly move the beam ...
Emergency starting
If the engine cannot be started because the battery is weak or dead, the battery from another vehicle can be used with jumper cables to start the engine. Warning ► To start the engine using ...