Tools and jack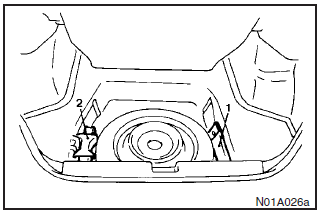 The storage location of the tools and jack should be remembered in case of an emergency.
Location
1- Tools
2- Jack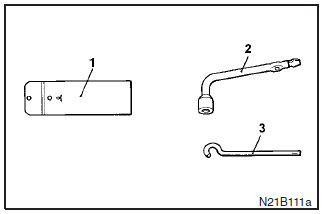 Tools
1- Tool bag
2- Wheel nut wrench
3- Bar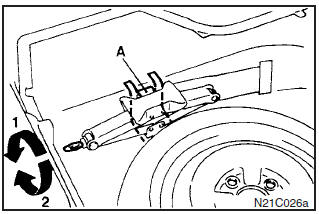 Jack
1- To remove
Turn the shaft end so that the jack retracts and detach it from fixing bracket (A).
2- To store
Turn the shaft end by hand to expand the jack until it is secured firmly in position.
See also:
Battery
The condition of the battery is very important for quick starting of the engine and proper functioning of the vehicle's electrical system. Regular inspection and care are especially important in ...
Side airbag system
The side airbags (A) are contained in the driver and front passenger seatbacks. The side airbag is designed to inflate only on the side of the vehicle that is impacted, even with no passenger in th ...
Replacement of lamp bulbs
Before replacing a bulb, ensure the lamp is off. Do not touch the glass part of the new bulb with your bare fingers; the skin oil left on the glass will evaporate when the bulb gets hot and the va ...