Brake fluid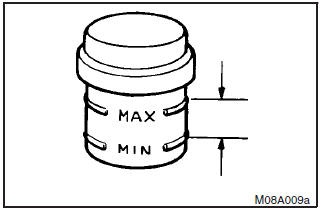 Check the brake fluid level in the reservoir. The brake fluid level must be between the "MAX" and "MIN" marks on the reservoir. The fluid level falls slightly with wear of the brake pads, but this does not indicate any abnormality.
If the brake fluid level falls markedly in a short length of time, it indicates leaks from the brake system.
If this occurs, have the vehicle checked by an authorized MITSUBISHI dealer.
Use brake fluid conforming to DOT3 or DOT4. The brake fluid is hygroscopic. Too much moisture in the brake fluid will adversely affect the brake system, reducing the brake performance.
In addition, the brake fluid reservoir is equipped with a special cap to prevent the entrance of air, and this cap should not be removed.
The brake fluid level is monitored by a float. When the brake fluid level falls below the "MIN" mark, the brake fluid warning lamp lights up.
WARNING
(1) Take care in handling brake fluid as it is harmful to the eyes and may also cause damage to painted surfaces. If fluid is spilt, wipe it up as soon as possible.
(2) Use only the specified brake fluid. Also, the additives in different brands may result in a chemical reaction when mixed together, so avoid mixing different brands if possible.
(3) Normally, keep the reservoir tank cap closed to prevent the brake fluid from deteriorating.
See also:
SRS warning lamp/display
Warning lamp If there is an error in the system, the warning lamp will come on and the warning display will appear on the information screen in the multi-information display. Under normal cond ...
How to adjust the tune
Manual tuning The frequency changes every time the TUNE/SEEK button (6 or 7) is pressed. Press the button to select the desired station. Automatic tuning After keeping the TUNE/SEEK button (6 or ...
Parking brake break-in
Break-in the parking brake linings whenever the brake performance of the parking brake is insufficient or whenever the parking brake linings and/or discs are replaced, in order to assure the best ...