Wheel condition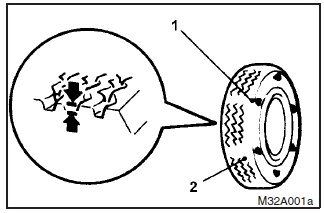 1- Location of tread wear indicator
2- Tread wear indicator
Check the tyres for cuts, cracks and other damage. Replace the tyres if there are deep cuts or cracks. Also check each tyre for pieces of metal or pebbles.
The use of worn tyres can be very dangerous because of the greater chance of skidding or hydroplaning. The tread depth of the tyres must exceed 1.6 mm in order for the tyres to meet the minimum requirement for use.
If there are tread wear indicators on the tyres, they will appear in six places on the surface of the tyre as the tyre wears, thereby indicating that the tyre no longer meets the minimum requirement for use. When these wear indicators do appear, the tyres must be replaced with new ones.
Be sure that the wheel nuts are tightened correctly. Refer to the section entitled "For emergencies" for information concerning replacement of the tyres.
NOTE
The mark and the location of the tyre tread wear indicators are different depending on tyre manufacturers.
See also:
Protect the environment
It is illegal to pollute drains, water courses and soil. Use authorized waste collection facilities, including civic amenity sites and garages providing facilities for disposal of used oil and use ...
Dead Lock System
The Dead Lock System helps to prevent theft. When the keyless entry system has been used to lock all of the doors and the tailgate, the Dead Lock System makes it impossible to unlock the doors usi ...
Sun visors
1- To eliminate front glare 2- To eliminate side glare Vanity mirror Type 1 A vanity mirror is fitted to the back of the sun visor. Operating the lid of the vanity mirror will automatically tur ...