Vehicle identification number plate (RHD vehicles only)
The vehicle identification number is stamped on the plate riveted to the left front corner of the vehicle body. It is visible from outside of the vehicle through the windscreen.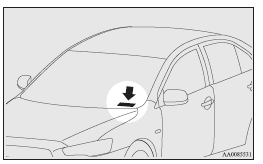 See also:
SLIP control
Slip control prevents the drive wheels (front wheels) from excessive spinning during starting or while making accelerated turn on slippery roads to avoid losing the driving force of the front whee ...
Warning activation
In order to prevent vehicle theft or the accidental operation of the keyless operation system, the buzzer and the display on the information screen in the multi- information display are used to al ...
Cleaning plastic parts
Use a sponge or chamois leather. If a car wax adheres on a grey or black rough surface of the bumper, moulding or lamps, the surface becomes white. In such a case, wipe it off using lukewarm wate ...