Retracting and extending the outside mirrors
The outside mirror can be folded in towards the side window to prevent damage when parking in narrow areas.

Caution
► Do not drive the vehicle with the mirror folded in.
The lack of rearward visibility normally provided by the mirror could lead to an accident.
[Except for vehicles equipped with the mirror retractor switch]
Push the mirror towards the back of the vehicle with your hand to retract it in.
When extending the mirror, pull it out towards the front of the vehicle until it clicks to lock in place.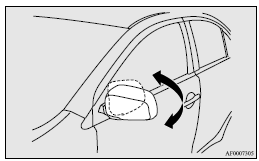 [For vehicles equipped with the mirror retractor switch]
See also:
Combination of unheated air and heated air
Set the mode selection dial to the position shown in the illustration and set the air selection switch (A) to the outside position. The air will be directed to the leg area and the upper part of ...
Important operation tips for the air conditioning
• Park the vehicle in the shade. Parking in the hot sun will make the vehicle inside extremely hot, and it will require more time to cool the interior. If it is necessary to park in the sun, ope ...
Diesel particulate filter (DPF)
The diesel particulate filter (DPF) is a device that captures most of the particulate matter (PM) in the exhaust emissions of the diesel engine. The DPF automatically burns away trapped PM during ...