Tyre chains
If tyre chains have to be used, ensure that they are fitted only on the drive wheels (front) in accordance with the manufacturer's instructions.
It is recommended that snow chains are carried in snow regions and fitted when required to the front wheels in accordance with the manufacture's instructions.
Use only tyre chains which are designed for use with the tyres mounted on the vehicle: use of the incorrect size or type of chain could result in damage to the vehicle body.
Contact a MITSUBISHI MOTORS Authorized Service Point before putting on tyre chains. The max. chain height is as follows.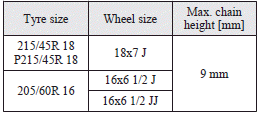 When driving with tyre chains on the tyres, do not drive faster than 50 km/h (30 mph). When you reach roads that are not covered in snow, immediately remove the tyre chains.

Caution
► Practice fitting the chains before you need them.
Don't expect help from other people in the cold.
► Choose a clear straight stretch of road where you can pull over and still be seen while you are fitting the chains.
► Do not fit chains before you need them.
This will wear out your tyres and the road surface.
► After driving around 100-300 metres, stop and retighten the chains.
► Drive carefully and do not exceed 50 km/h (30 mph). Remember that preventing accidents is not the purpose of tyre chains.
► When tyre chains are installed, take care that they do not damage the disc wheel or body.
► Do not install a tyre chain on an emergency wheel which is compact in size. If one of the front wheels has a puncture, replace it with one of the rear wheels and install the compact spare wheel in that place before fitting a tyre chain.
► An aluminium wheel can be damaged by a tyre chain while driving. When fitting a tyre chain on an aluminium wheel, take care that any part of the chain and fitting cannot be brought into contact with the wheel.
► Remove the wheel covers before installing a tyre chain, otherwise they may be damaged by the tyre chain. (Refer to "Wheel covers".)
► When installing or removing the tyre chains, take care that hands and other parts of your body are not injured by the sharp edges of the vehicle body.

Note
► The laws and regulations concerning the use of tyre chains vary. Always follow local laws and regulations.
In most countries, it is prohibited by law to use tyre chains on roads without snow.
See also:
Cleaning the outside of your vehicle
If the following is left on your vehicle, it may cause corrosion, discolouration and stains, wash the vehicle as soon as possible. Seawater, anti-freeze for road use. Soot and dust, iron powde ...
Specifications, Consumer information and Reporting safety defects
Dimensions Engine Gross vehicle weight Luggage volume Min: Behind rear seat Max: Behind front seat Air conditioning system Please contact a professional workshop for m ...
Bluetooth® 2.0 interface
The Bluetooth® 2.0 interface allows for making/receiving hands-free calls in the vehicle using a Bluetooth ® compatible cellular phone based on the wireless communication technology commonly kno ...