Interior
LHD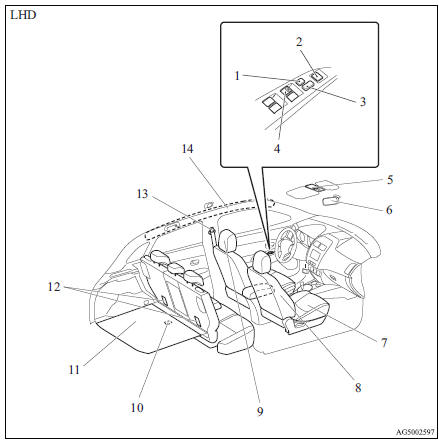 1. Lock switch
2. Electric remote-controlled outside rear-view mirrors switch
3. Central door lock switch
4. Electric window control switch
5. Sunshade illumination dimming control switch*
6. Inside rear-view mirror
7. Front seat

Heated seat*

8. Supplemental restraint system - side airbag (for front seats)*
9. Head restraints
10. Luggage room lamp
11. Luggage floor box*
12. Tether anchorages for child restraint system
13. Seat belts

Adjustable seat belt anchor

14. Supplemental restraint system - curtain airbag*
LHD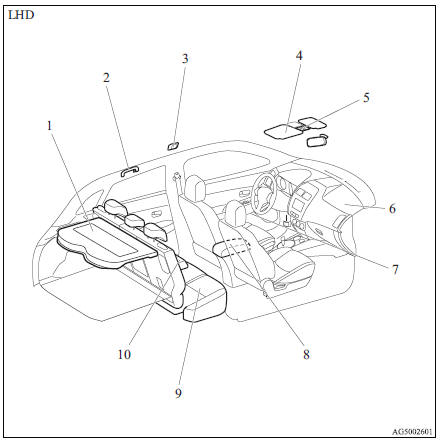 1. Rear shelf panel
2. Assist grip

Coat hook

3. Room lamp (rear)*
4. Sun visors

Vanity mirror

Card holder

5. Map lamp & room lamp (front)

Sunshade illumination switch*

6. Supplemental restraint system - airbag (for front passenger's seat)
7. Bottle holder
8. Auxiliary Audio connector (RCA)*

USB input terminal*

Accessory socket

9. Rear seat
10. Armrest*

Cup holder*
RHD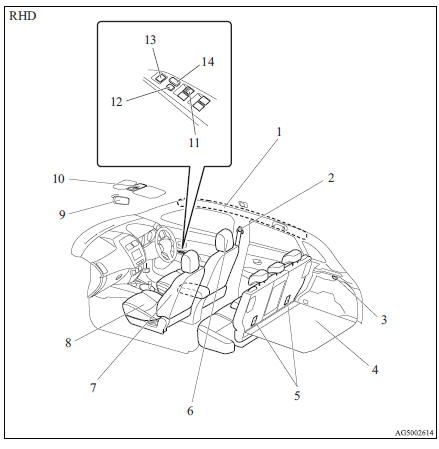 1. Supplemental restraint system - curtain airbag*
2. Seat belts

Adjustable seat belt anchor

3. Luggage room lamp
4. Luggage floor box*
5. Tether anchorages for child restraint system
6. Head restraints
7. Supplemental restraint system - side airbag (for front seats)*
8. Front seat

Heated seat*

9. Inside rear-view mirror
10. Sunshade illumination dimming control switch*
11. Electric window control switch
12. Lock switch
13. Electric remote-controlled outside rear-view mirrors switch
14. Central door lock switch
RHD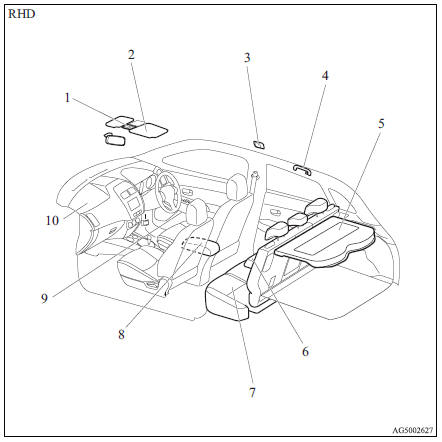 1. Map lamp & room lamp (front)

Sunshade illumination switch*

2. Sun visor

Vanity mirror

Card holder

3. Room lamp (rear)*
4. Assist grip

Coat hook

5. Rear shelf panel
6. Armrest*

Cup holder*

7. Rear seat
8. Auxiliary Audio connector (RCA)*

USB input terminal*

Accessory socket

9. Bottle holder
10. Supplemental restraint system - airbag (for front passenger's seat), 2-28
See also:
Changing the display language
The language of the multi-information display can be switched. 1. Press and hold the multi-information meter switch for about 2 seconds or more to switch from the setting mode screen to the menu sc ...
To lock
Press the LOCK switch (1). All the doors and rear hatch will be locked. The turn-signal lamps will blink once. Note ► With a vehicle that has a Dead Lock System, pressing the LOCK switch (1 ...
Upholstery
1. To maintain the value of your new vehicle, handle the upholstery carefully and keep the interior clean. Use a vacuum cleaner and brush to clean the seats. If stained, vinyl and synthetic leathe ...