If the keyless operation key is not operating properly
Insert the keyless operation key into the key slot in the glove box. Starting the engine and changing the operation mode should now be possible.
Remove the keyless operation key from the key slot after starting the engine or changing the operation mode.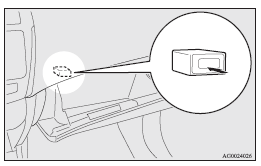 NOTE
• Do not insert into the key slot anything other than the keyless operation key. This could cause damage or a malfunction.
• Remove the object or additional key from the the keyless operation key before inserting the key into the key slot.
The vehicle may not be able to receive the registered ID code from the registered key.
Therefore, the engine may not start and the operation mode may not change.
Keyless operation key reminder

If the operation mode is in OFF and the driver's door is opened with the keyless operation key in the key slot, a warning is issued with the warning display and the buzzer buzzing for approximately 3 seconds to remind you to remove the key.
See also:
Starting
Tips for starting ► Do not operate the starter motor continuously longer than 10 seconds; doing so could run down the battery. If the engine does not start, turn the ignition switch back to ...
To check the fluid level
The fluid level must be between the "MAX" and "MIN" marks on the reservoir. The fluid level is monitored by a float. When the brake fluid level falls below the "MIN" mark, the brake f ...
Starting the engine (Petrol-powered vehicles)
This vehicle is equipped with an electronically controlled fuel injection system which is automatically controlled. When starting the engine, do not depress the accelerator pedal. ...