Inside tailgate release
The inside tailgate release is designed to provide a way to open the tailgate in the case of a discharged battery.
The tailgate release lever (see illustration) is mounted on the tailgate.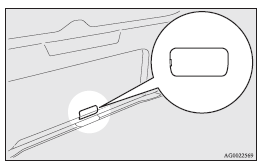 You and your family should familiarize yourselves with the location and operation of the tailgate release lever.
To open
1. Insert a straight blade (or minus) screwdriver into the notch of the lid (A) and pry gently to open the lid.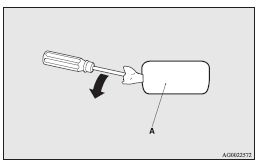 2. Move the lever (B) to open the tailgate.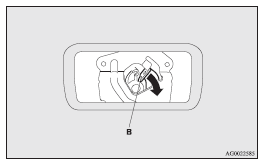 3. Push out on the tailgate to open it.

CAUTION
• Always keep the release lever lid on the tailgate closed when driving so that your luggage cannot accidentally bump the lever and open the tailgate.
See also:
Height adjustment
Adjust the head restraint height so that the centre of the restraint is as close as possible to eye level to reduce the chances of injury in the event of collision. Any person too tall for the r ...
Battery
The condition of the battery is very important for quick starting of the engine and proper functioning of the vehicle's electrical system. Regular inspection and care are especially important in ...
The front airbags and driver's knee airbag MAY NOT DEPLOY when…
With certain types of frontal collisions, the vehicle's body structure is designed to absorb the shock to help protect the occupants from harm. (The vehicle body's front area may deform signif ...