Inside tailgate release
The inside tailgate release is designed to provide a way to open the tailgate in the case of a discharged battery.
The tailgate release lever (see illustration) is mounted on the tailgate.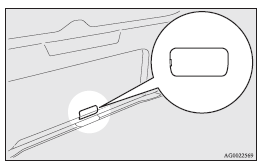 You and your family should familiarize yourselves with the location and operation of the tailgate release lever.
To open
1. Insert a straight blade (or minus) screwdriver into the notch of the lid (A) and pry gently to open the lid.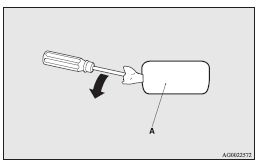 2. Move the lever (B) to open the tailgate.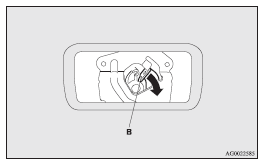 3. Push out on the tailgate to open it.

CAUTION
• Always keep the release lever lid on the tailgate closed when driving so that your luggage cannot accidentally bump the lever and open the tailgate.
See also:
Pregnant women restraint
WARNING • Seat belts work for everyone, including pregnant women. Pregnant women should use the available seat belts. This will reduce the likelihood of injury to both the woman and the unborn ...
To remove
Remove the child restraint in accordance with the instructions provided by the child restraint system's manufacturer. ...
Driving, alcohol and drugs
Driving after drinking alcohol is one of the most frequent causes of accidents. Your driving ability can be seriously impaired even with blood alcohol levels far below the legal minimum. If you ha ...