Bonnet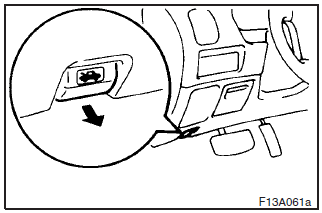 To open
Pull the release lever towards you to unlock the bonnet.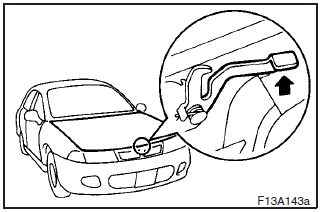 Raise the bonnet while pressing the safety lock.
NOTE
Only open the bonnet when the wipers are in the parked position. Failure to do so may cause paint/body damage.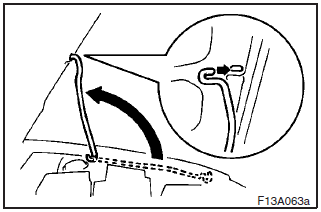 Support the bonnet by inserting the support bar in its slot.
CAUTION
(1) Note that the support bar may disengage the bonnet if the open bonnet is lifted by a strong wind.
(2) Always insert the support bar into the hole provided specifically for this purpose. Supporting the bonnet at any other location could result in the support bar slipping out and lead to an accident.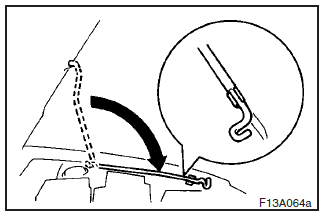 To close
Unlatch the support bar and clip it in its holder.
Slowly lower the bonnet to the position 30 cm above the closed position, then let it drop.
NOTE
(1) If this does not close the bonnet, release it from a slightly higher position.
(2) Do not press down the bonnet hard with a hand as it may damage the bonnet.
CAUTION
(1) Be careful that hands or fingers are not trapped when closing the bonnet.
(2) Before driving, make sure that the bonnet is securely locked. An incompletely locked bonnet can suddenly open while driving. This can be extremely dangerous.
See also:
Engine oil level warning display
When the ignition switch is in the "ON" position, if it is suspected that the engine oil level has increased excessively, the warning display is displayed on the information screen in the mu ...
Engine oil
To check and refill engine oil The engine oil used has a significant effect on the engine's performance, service life and startability. Be sure to use oil of the recommended quality and appropr ...
Selection of engine oil (diesel-powered vehicles)
(1) Select engine oil of the proper SAE viscosity number according to the atmospheric temperature. (2) Use engine oil conforming to the following classification: Type 1:ACEA classification: "Fo ...