Headlamp levelling switch (except for vehicles with discharge headlamps)
The angle of the headlamp beam varies depending on the load carried by the vehicle.
The headlamp levelling switch can be used to adjust the headlamp illumination distance (when the lower beam is illuminated) so that the headlamps' glare does not distract other drivers.
Set the switch according to the following table.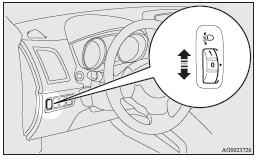 CAUTION
• Always perform adjustments before driving.
Do not attempt to adjust while driving, as it could cause an accident.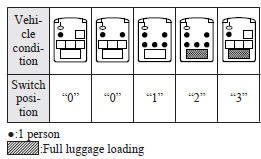 Switch position 0- Driver only/Driver + 1 front passenger
Switch position 1- 5 passengers (including driver)
Switch position 2- 5 passengers (including driver) + Full luggage loading
Switch position 3- Driver + Full luggage loading
See also:
Driver's knee airbag system
The driver's knee airbag is located under the steering wheel. The driver's knee airbag is designed to deploy at the same time as the driver's front airbag. ...
Obstacle detection areas
The detection areas of the corner and back sensors are limited to those shown in the illustration. Moreover, the sensors are unable to detect low or thin objects or objects near the rear bumper. T ...
AUTO STOP
Timer AUTO STOP display shows the elapsed time of engine stop by Idle Stop and Go (ISG) system. If the ISG does not operate, the reason for the non-operation is displayed. (if equipped) ...