Headlamp washer switch
The headlamp washer can be operated with the ignition switch or the operation mode in ON or ACC and the lamp switch at the

position.
Push the button once and the washer fluid will be sprayed on to the headlamps.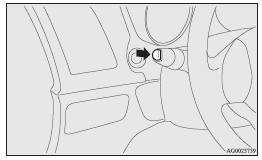 NOTE
• If the ignition switch or the operation mode is in ON or ACC and the headlamps are on, the headlamp washer operates together with the windscreen washer the first time the windscreen washer lever is pulled.
Precautions to observe when using wipers and washers
• If the moving wipers become blocked by ice or other deposits on the glass, the motor may burn out even if the wiper switch is turned to OFF. If obstruction occurs, park your vehicle in a safe place, turn off the engine, and clean the deposits from the glass so that the wipers operate smoothly.
• Do not use the wipers when the glass is dry.
They may scratch the glass surface and the blades wear out prematurely.
• Before using the wipers in cold weather, check that the wiper blades are not frozen onto the glass. The motor may burn out if the wipers are used with the blades frozen onto the glass.
• Avoid using the washer continuously for more than 20 seconds. Do not operate the washer when the fluid reservoir is empty.
Otherwise, the motor may burn out.
• Periodically check the level of washer fluid in the reservoir and refill if required.
During cold weather, add a recommended washer solution that will not freeze in the washer reservoir. Failure to do so could result in loss of washer function and frost damage to the system components.
See also:
Folding the rear seat
The rear seatbacks may be folded to facilitate carrying long items or to increase the luggage capacity of the vehicle. WARNING Folded Seatback The purpose of the fold-down rear seatbacks is to ...
Smart ISG features
Early Engine Restart If the engine was stopped automatically by ISG, Early Engine Restart can automatically restart the engine from ISG without driver action when the vehicle ahead pulls away and ...
ACD control mode
Select the control mode from the following three types to suit the driving conditions. ...