Trailer towing
In order to tow a trailer with your vehicle, have a trailer towing device that meets all relevant regulations in your area, mounted consult a MITSUBISHI MOTORS Authorized Service Point.
The regulations concerning the towing of a trailer may differ from country to country. You are advised to obey the regulations in each area.

CAUTION
• Danger of Accident! A towing bar should be fitted according to MITSUBISHI MOTORS guidelines.
Maximum towable weight with brake and maximum trailer-nose weight
Never exceed the maximum towable weight with brake and the maximum trailer-nose weight as listed in the specifications.
(Refer to page 9-07.) If you tow a trailer at an altitude of more than 1,000 m above sea-level, reduce your weight by 10 % of the gross combination weight for every increase of 1,000 m above sea-level, as the engine output is lowered owing to decrease in atmospheric pressure.
Towing bar mounting specifications
See the following table for fixing points (A) for the towing bar.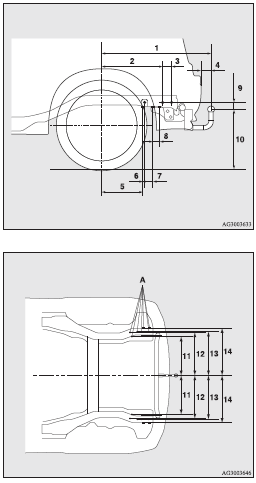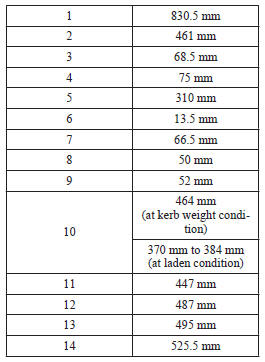 NOTE
• The values under item 12 can be varied depending on the loading condition of cargo or luggage.
Operating hints
• To prevent the clutch from slipping (Vehicle with a M/T only), do not rev the engine more than is required when starting off.
• Be sure that the driving speed does not exceed 100 km/h (62 mph) for trailer operation.
It is also recommended that you obey the local regulations in case driving speed with a trailer is limited to less than 100 km/h (62 mph).
• To prevent shocks from the overrun brake, depress the brake pedal lightly at first and then more strongly.
• To make full use of engine braking, change to a lower shift point before descending a slope.
Additional precautions for vehicles equipped with a CVT
It is recommended the "D" position on slopes or at low speed.
Use the sports mode in mountainous areas in order to make better use of engine braking and to assist the brake system.
However, be sure that the speed does not exceed the maximum speed limit for the selected shift position.
Overheating
This will normally occur as a result of some mechanical failure. If your vehicle should overheat, stop and check for a loose or broken water pump/ alternator drive belt, a blocked radiator air intake or a low coolant level. If these items are satisfactory the overheating could be caused by a number of mechanical causes that would have to be checked at a competent service centre.

CAUTION
• If the engine overheats, please refer to the "Engine overheating" section of "For emergencies" prior to taking any corrective action.
• On vehicles equipped with CVT, if the warning display is showing, the temperature of the CVT fluid is high.
Read the reference page and take the required measures.
Refer to "When a malfunction occurs in the CVT".
See also:
Air purifier
An air filter has been incorporated into this air conditioning so that dirt and dust are cleaned from the air. Replace the air filter periodically as its ability to clean the air will be reduced ...
Wiper blades
Use a soft cloth and glass cleaner to remove grease, dead insects, etc., from the wiper blades. Replace the wiper blades when they no longer wipe properly. ...
Steering wheel lock
To lock Turn the steering wheel until it is locked. To unlock Turn the ignition switch to the "ACC" position while moving the steering wheel slightly right and left. Caution ► Carr ...