Heated seats*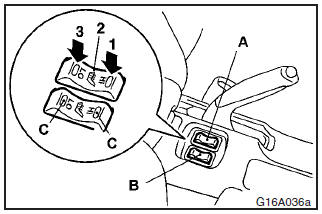 The heated seats can be operated with the ignition switch in the "ON" position.
A– For driver's switch
B– For passenger's switch
1- Heater high (for quick heating)
2- Heater off
3- Heater low (to keep the seat warm)
The indication lamp (C) will illuminate while the heater is on.
CAUTION
(1) Switch off seat heaters when not in use.
(2) Operate in the high position for quick heating. Once the seat is warm, set the heater to low to keep it warm. Slight variations in seat temperature may be felt while using the heated seats. This is caused by the operation of the heater's internal thermostat and does not indicate a malfunction.
(3) If the following types of persons use the heated seats, they might become too hot or receive minor burns (red skin, heat blisters, etc.):
Children, elderly or ill people
People with sensitive skin
Excessively tired people
People under the influence of alcohol or sleep inducing medication (cold medicine, etc.)
(4) Do not use a blanket, cushion, or other material with high heat insulation properties on the seat while using the heater; this might cause the heater element to overheat.
(5) Turn the heater off immediately if it appears to be malfunctioning during use.
NOTE
(1) Do not place heavy objects on the seat or stick pins, needles, or other pointed objects into it.
(2) When cleaning the seat, do not use benzene, gasoline, alcohol, or other organic solvents; this might damage the surface of the seat, but also the heater element.
(3) If water or any other liquid is spilled on the seat, allow it to dry thoroughly before attempting to use the heater.
See also:
Using the infotainment/climate switchable controlle
NOTICE If you install an aftermarket HID head lamp, your vehicle's audio and electronic device may malfunction. Using the infotainment/climate switchable controller Press the button on ...
Tailgate
WARNING • It is dangerous to drive with the tailgate open, since carbon monoxide (CO) gas can enter the cabin. You cannot see or smell CO. It can cause unconsciousness and even death. • When ...
Making a luggage room
WARNING: ● When making a luggage area, never arrange the seats while the vehicle is being driven or is on an incline. The seats could move unexpectedly or more than required and cause a ser ...