3–point type seat belt (with emergency locking mechanism)
This type of belt requires no length adjustment. Once worn, the belt adjusts itself to the movement of the wearer, but in the event of a sudden or strong shock, the belt automatically locks to restrain the wearer's body.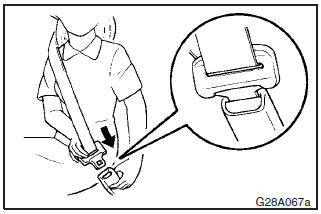 To fasten
Pull the seat belt out slowly while holding the latch plate.
NOTE
When the seat belts cannot be pulled out in a locked condition, pull the belts once forcefully and then return them. After that, pull the belts out slowly once again. Insert the latch plate into the buckle until a "click" is heard.
CAUTION
(1) Never wear the lap portion of the belt across your abdomen. During accidents it can press sharply against your abdomen and increase the risk of injury.
(2) The seat belts must not be twisted when worn.
Pull the belt slightly to adjust looseness as desired.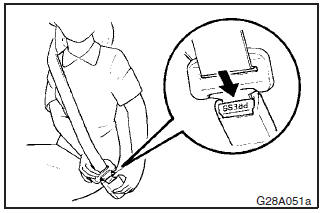 To unfasten
Hold the latch plate and push the button on the buckle.
NOTE
As the belt retracts automatically, keep the latch plate held while retracting so that the belt stows slowly. Failure to do this could damage the vehicle.
See also:
CD control panel and display
1- AM/FM button 2- CD (CD mode changeover) button 3- PWR (On-Off) switch 4- PAGE (Title scroll) button 5- DISP (Display) button 6- RPT (Repeat) button 7- RDM (Random) button 8- (Fast-rever ...
Fuel consumption
...
Exterior features
Roof rack If the vehicle has a roof rack, you can load cargo on top of your vehicle. Type A Type B * The actual shape may differ from the illustration. Crossbars and fixing components need ...