Installing a child restraint system to a 3–point type seat belt (with emergency locking mechanism)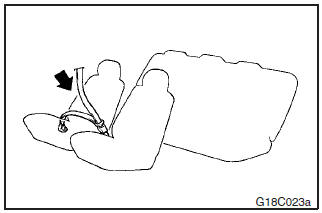 For safety, you are advised to install the child restraint system using a 3–point type seat belt with emergency/automatic locking mechanism. If you cannot avoid installing it using another type of seat belt, follow the instructions given below.
Installation:
1. Fasten the seat belt to secure the child restraint system. Make sure you hear a "click" when you insert the latch plate in the buckle.
2. 3–point type seat belts require no length adjustment. Remove all slack by using the locking clip.
3. Push and pull the child restraint in all directions to be sure it is secure.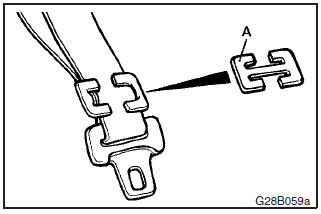 CAUTION
For some type of child restraint, the locking clip (A) should be used to help avoid personal injury during a collision or sudden manoeuvre. It must be fitted and used in accordance with the child restraint manufacturer's instructions. The locking clip must be removed when the child restraint is removed.
See also:
Catalytic converter
For ordinary use, there are no particular precautions except that of using unleaded petrol. The exhaust gas scavenging devices used with the catalytic converter are extremely efficient for the re ...
Checking battery electrolyte level
The electrolyte level must be between the "max" and "min" marks stamped on the outside of the battery. Replenish with distilled water as necessary. The inside of the battery is divided in ...
Operation under adverse driving conditions
On a flooded road ● Avoid flooded roads. Water could enter the brake discs, resulting in temporarily ineffective brakes. In such cases, lightly depress the brake pedal to see if the brakes ...