Combination headlamps, dipper and turn signal switch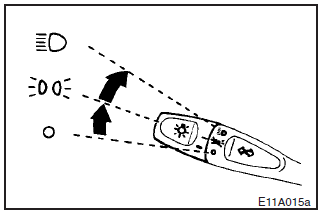 Headlamps
Rotate the switch to turn on the lamps.

–All lamps off

–Position, tail, licence–plate, and instrument panel lamps on

–Headlamps on and other lamps remain on
Lamp monitor system
If the driver's door is opened when the key is in the "LOCK" or "ACC" position or removed from the ignition switch with the lamp switch in the " " or " " position, a buzzer will sound to remind the driver to turn off the lamps.
Turn off the lamp switch, and the buzzer will stop.
[Vehicles with Daytime Running Lamp]
When the ignition key is in the "ON" position and the lamp switch is set to the "

" position, the low beam of the headlamps, tail lamps, etc., will illuminate.
NOTE
(1) Do not leave the headlamps and other lamps on for too long time while the engine is stationary. A run–down battery could result.
(2) When it rains, or when the vehicle has been washed, the inside of the lens sometimes becomes foggy. This is the same phenomenon as when window glass mists up on a humid day, and does not indicate a functional problem. When the lamp is switched on, the heat will remove the fog. However, if water gathers inside the lamp, please go to an authorized MITSUBISHI dealer for a check.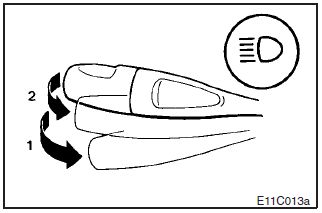 Dipper (High/Low beam change)
When the lamp switch is in the "

" position, the beam changes from high to low (or low to high) each time the lever is pulled to (1). While the high beam is on, the high beam indication lamp in the instrument cluster will also illuminate.
Headlamp flasher
The high beams flash when the lever is pulled slightly to (2), and will go off when it is released.
When the high beam is on, the high beam indication lamp in the instrument cluster will also illuminate.
NOTE
The high beams can also flash when the lamp switch is OFF.
See also:
Wiper and washer switch
Caution ► If the washer is used in cold weather, the washer fluid sprayed against the glass may freeze, which may hinder visibility. Warm the glass with the defroster or rear window demiste ...
Radio data system (RDS)
1- PWR (On-off) switch 2- TP (Traffic program) button 3- PTY (Program type) button 4- U/M/L (UKW/MW/LW selection) button 5- TUNE/SEEK (Down-step/Downseek) button 6- TUNE/SEEK (Up-step/Up-seek) b ...
Chrome parts
In order to prevent spots and corrosion of chrome parts, wash with water, dry thoroughly, and apply a special protective coating. This should be done more frequently in winter. ...