Rear window demister switch
The rear window demister switch can be operated with the ignition switch in the "ON" position.
Push the switch to turn on the rear window demister. To turn off the demister, push the switch again. As your vehicle is equipped with the rear window demister timer, it will be turned off automatically in about 20 minutes. To turn off the demister within 20 minutes, push the switch again.
The indication lamp (A) will illuminate while the demister is on. If your vehicle is equipped with a mirror heater, when the demister switch is pressed, the mist can also be removed from the outside rear-view mirrors. Refer to "Electric remote-controlled outside rear-view mirrors" on page 5–32.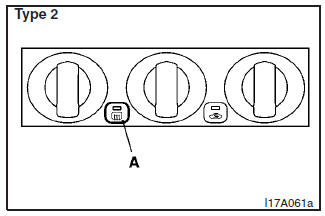 CAUTION
(1) The demister switch is not to melt snow but to clear mist. Remove snow before using the demister switch.
(2) To avoid unnecessary discharge of the battery, do not use the rear window demister when the engine is not running. Turn the demister off immediately after the window is clear.
(3) When cleaning the inside of the rear window, use a soft cloth and wipe gently along the heater wires, being careful not to damage the wires.
(4) Do not allow objects to touch the inside of the rear window glass, damaged or broken wires may result.
See also:
Brake Assistant System(BAS)
The Brake Assistant System provides additional pressure when the brake pedal is momentarily and strongly depressed in a situation sudden braking is required while driving. The Brake Assistant S ...
Surround View Monitor settings
Surround View Monitor can assist in parking by allowing the driver to see around the vehicle. Detecting sensor 1: SVM-front view camera 2, 3: SVM-side view camera (under the sid ...
Cleaning the upholstery and interior trim
Car interior surfaces Remove dust and loose dirt from interior surfaces with a whisk broom or a vacuum cleaner. If necessary, clean interior surfaces with a mixture of warm water and mild non-det ...