Rear window demister switch
The rear window demister switch can be operated with the ignition switch in the "ON" position.
Push the switch to turn on the rear window demister. To turn off the demister, push the switch again. As your vehicle is equipped with the rear window demister timer, it will be turned off automatically in about 20 minutes. To turn off the demister within 20 minutes, push the switch again.
The indication lamp (A) will illuminate while the demister is on. If your vehicle is equipped with a mirror heater, when the demister switch is pressed, the mist can also be removed from the outside rear-view mirrors. Refer to "Electric remote-controlled outside rear-view mirrors" on page 5–32.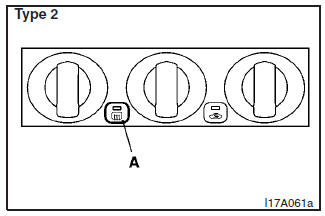 CAUTION
(1) The demister switch is not to melt snow but to clear mist. Remove snow before using the demister switch.
(2) To avoid unnecessary discharge of the battery, do not use the rear window demister when the engine is not running. Turn the demister off immediately after the window is clear.
(3) When cleaning the inside of the rear window, use a soft cloth and wipe gently along the heater wires, being careful not to damage the wires.
(4) Do not allow objects to touch the inside of the rear window glass, damaged or broken wires may result.
See also:
Safe driving techniques
Driving safety and protection against injury cannot be fully ensured. However, we recommend that you pay extra attention to the following: Seat belts Before starting the vehicle, make sure that yo ...
Operating the system as an automatic air conditioning
In normal conditions, use the system in the AUTO mode and follow these procedures: 1- Set the blower speed selection dial to "AUT" position. 2- Turn the temperature control dial to set the des ...
Luggage compartment lamp
Insert a straight blade (or minus) screwdriver into the notch of the lens and pry gently to remove the lens. Remove the bulb from the lamp holder. NOTE Wrap a piece of cloth around the straight ...