Multi centre display

When the ignition switch is in the "ACC" position, the outside temperature and clock are displayed in the multi centre display. When the ignition switch is in the "ON" position, the average fuel consumption is displayed besides outside temperature and digital clock.
If your vehicle is equipped with an automatic air conditioning system, set temperature, blower speed and air flow are displayed. (Refer to "Automatic air conditioning" on page 6–36.)
A- Outside temperature / Set temperature*1
B- Blower speed*1
C- Air flow*1
D- Average fuel consumption*2
E- Digital clock
F- DISP button (For vehicles with a MITSUBISHI genuine audio)
G- Display brightness / display unit selection button
*1: Option
*2: Average fuel consumption:
For vehicles without MITSUBISHI genuine audio, only average fuel consumption is displayed.
For vehicles with MITSUBISHI genuine audio, driving range and average speed can be displayed besides average fuel consumption by pushing the DISP button in the audio unit.
NOTE
(1) The display unit (ex. km or mile) and brightness can be changed as desired. (Refer to "Display brightness adjustment/Display unit selection" on page 4–31.) When the system cannot provide a definite value for average fuel consumption/driving range/average speed, it is displayed as "– – –".
(2) The figure of the display varies according to the conditions under which a vehicle is travelling (road conditions, the manner in which the vehicle is being driven, etc.). Observe display for reference because the figure of the display may differ from the actual figure.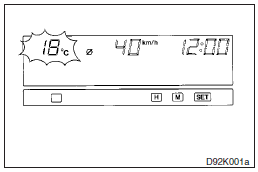 Outside temperature
This value shows the outside temperature of the vehicle.
If the outside temperature drops below about 3 C, the alarm sounds and the outside temperature figure flashes for about 5 seconds.
NOTE
(1) The outside temperature can be displayed from -40 C to 70 C.
(2) The outside temperature displayed may differ from the actual temperature on account of surrounding conditions, driving conditions, etc.
(3) If the temperature outside the vehicle is below -40 C or over 70 C, an error message will be displayed (LO C, HI C).
See also:
Tyres and wheels
Note ► Contact your MITSUBISHI MOTORS Authorized Service Point for details on the combination used on your vehicle. ...
ACD warning display
When there is a malfunction in the system, the warning display will appear on the information screen in the multi-information display. In addition, the ACD control mode display in section (A) will ...
Fuses
Fuse block location To prevent damage to the electrical system due to shortcircuiting or overloading, each individual circuit is provided with a fuse. There are fuse blocks in the passenger compar ...