Operating hints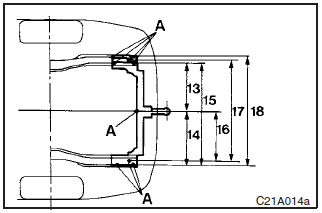 (1) Do not let the clutch slip (vehicles with a manual transmission only) and do not increase the engine speed more than necessary when starting.
(2) Be sure that the driving speed does not exceed the 100 km/h for trailer operation. It is also recommended that you obey the local regulations in case driving speed with a trailer is limited to less than 100 km/h.
(3) To prevent shocks from the overrun brake, depress the brake pedal lightly at first and then more strongly.
(4) To make full use of engine braking, change to a lower gear before descending a slope.
(5) The body, brakes, clutch, and chassis will be under additional strain when towing a trailer.
(6) The heavier weight and higher rolling and air resistance will increase fuel consumption.
Additional precautions for vehicles equipped with an automatic transmission
The "2" position (INVECS–II 4A/T) or 2nd gear (INVECS–II Sport Mode 4A/T) is recommended on slopes or at low speed. Use the "L" position (INVECS–II 4A/T) or 1st gear (INVECS–II Sport Mode 4A/T) in mountainous areas in order to make better use of engine braking and to assist the brake system. However, be sure that the speed does not exceed the maximum speed limit for the selected gear.
For maximum speed of the vehicles equipped with INVECS–II 4A/T, refer to the description of the "Possible driving speed" on page 5–24.