Vehicles with Sports mode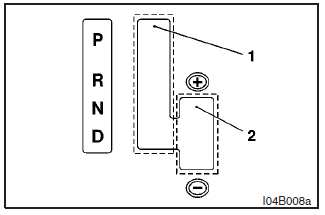 The transmission has 4 forward gears and 1 reverse gear.
The individual gears are selected automatically, depending on the position of the gear selector lever, the speed of the vehicle and the position of the accelerator pedal.
The selector lever has 2 gates; the main gate (1) and the manual gate (2).
NOTE
For information on manual gate operation, please refer to "Sports mode (Vehicles with Sports mode)" on page 5–22.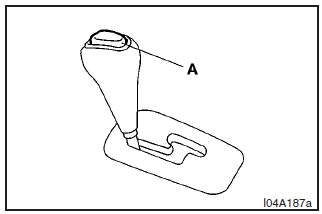 In the main gate, selector lever has 4 positions, and is equipped with a lock button (A) to avoid inadvertent selection of the wrong gear.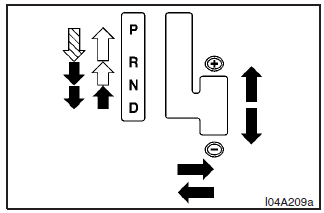 Button must be pushed while the brake pedal is depressed to move the lever.

Button must be pushed to move the lever.

Button need not be pushed to move the lever.
WARNING
(1) If the button is always depressed to operate the selector lever, the lever may be accidentally shifted into the "P", "R", "2", or "L" position. Be sure not to depress the button (A) when performing the operations indicated by in the illustration.
(2) Always depress the brake pedal when shifting the selector lever into a gear from the "P" (PARK) or "N" (NEUTRAL) position. When beginning to drive, do not shift the selector lever form the "P" (PARK) or "N" (NEUTRAL) position while depressing the accelerator pedal, doing so is dangerous because the vehicle will "jump" forward or backward.
NOTE
If the brake pedal is not depressed and held, the shift-lock device activates to prevent the selector lever from being moved from the "P" (PARK) position to another position.
See also:
Washing
Chemicals contained in the dirt and dust picked up from the road surface can damage the paint coat and body of your vehicle if left in prolonged contact. Frequent washing and waxing is the best way ...
To lock without using the key
Set the inside lock knob (1) to the locked position, and close the door (2). Note ► The driver's door cannot be locked using the inside lock knob while the driver's door is opened. ...
Running-in recommendations
During the running-in period for the first 1,000 km, it is advisable to drive your new vehicle using the following precautions as a guideline to aid long life as well as future economy and perform ...