Vehicles with Sports mode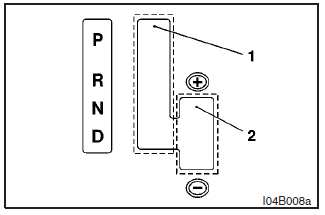 The transmission has 4 forward gears and 1 reverse gear.
The individual gears are selected automatically, depending on the position of the gear selector lever, the speed of the vehicle and the position of the accelerator pedal.
The selector lever has 2 gates; the main gate (1) and the manual gate (2).
NOTE
For information on manual gate operation, please refer to "Sports mode (Vehicles with Sports mode)" on page 5–22.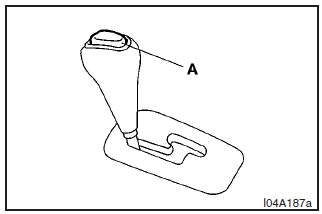 In the main gate, selector lever has 4 positions, and is equipped with a lock button (A) to avoid inadvertent selection of the wrong gear.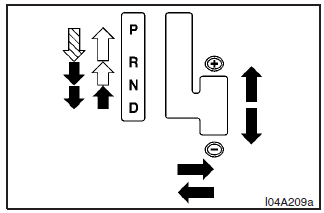 Button must be pushed while the brake pedal is depressed to move the lever.

Button must be pushed to move the lever.

Button need not be pushed to move the lever.
WARNING
(1) If the button is always depressed to operate the selector lever, the lever may be accidentally shifted into the "P", "R", "2", or "L" position. Be sure not to depress the button (A) when performing the operations indicated by in the illustration.
(2) Always depress the brake pedal when shifting the selector lever into a gear from the "P" (PARK) or "N" (NEUTRAL) position. When beginning to drive, do not shift the selector lever form the "P" (PARK) or "N" (NEUTRAL) position while depressing the accelerator pedal, doing so is dangerous because the vehicle will "jump" forward or backward.
NOTE
If the brake pedal is not depressed and held, the shift-lock device activates to prevent the selector lever from being moved from the "P" (PARK) position to another position.
See also:
Pretensioner system
The pretensioner system will retract their respective seat belts instantaneously, thus maximizing the seat belt's effectiveness, if there is a frontal impact severe enough to injure the driver a ...
Inspection and maintenance followingrough road operation
After operating the vehicle in rough road conditions, be sure to perform the following inspection and maintenance procedures: ● Check that the vehicle has not been damaged by rocks, gravel, e ...
Rear room lamp
When replacing the bulb, put the rear room lamp switch into the "OFF" position. 1. Insert a straight blade (or minus) screwdriver with a cloth over its tip into the notch of the lamp assembly a ...