Steering wheel height adjustment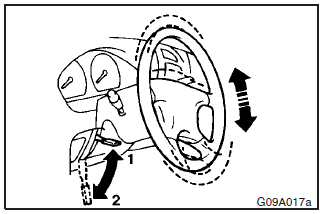 To adjust the steering wheel height, release the tilt lock lever while holding the steering wheel by hand, and raise or lower the steering wheel to the desired height.
After adjustment, securely lock the lever by pulling it upward.
1- Locked
2- Released
WARNING
(1) After adjusting to the desired height, check to be sure that the lever is locked.
(2) Do not attempt to adjust the steering wheel while you are driving the vehicle.
(3) When releasing the tilt lock lever, move it to the release position (2) and hold the steering wheel by hand to prevent it falling to the lowest position.
See also:
Damaged paint
Small cracks and scratches in the paint coat should be touched up as soon as possible with MITSUBISHI touch-up paint to prevent corrosion. Check body areas facing the road or the tyres carefully fo ...
Operating a music player connected via Bluetooth
For the operation of a music player connected via Bluetooth®, refer to "To play tracks from a Bluetooth ® device". ...
Replacement of lamp bulbs
Before replacing a bulb, ensure the lamp is off. Do not touch the glass part of the new bulb with your bare fingers; the skin oil left on the glass will evaporate when the bulb gets hot and the va ...