Rear shelf panel (Hatchback)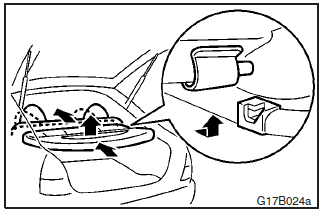 To remove
1. Pull the knob and tilt the rear seat back slightly forward.
2. Slightly lift up the front edge of the rear shelf. Slide the rear shelf rearward by tapping it lightly at the right and left sides to release the pins from the catches.
3. Lift the rear shelf and remove it.
See also:
Removal of water from the fuel filter (diesel-powered vehicles only)
When water has accumulated in the fuel filter, remove the water as described below. 1. Place a drainage tray under the filter. 2. Connect a hose to the drain plug (A) and let it hang down into ...
Damaged paint
Small cracks and scratches in the paint coat should be touched up as soon as possible with MITSUBISHI touch-up paint to prevent corrosion. Check body areas facing the road or the tyres carefully fo ...
Wipers and washers
The wipers and washers remove foreign substances from the windshield and rear window, helping to maintain visibility. A: Wiper speed control MIST - Single wipe OFF - Off INT - Inter ...