Engine overheating
If the water temperature gauge indication remains in the overheating zone for a long time, the engine may be overheating. If this occurs, take the following corrective measures :
1. Stop the vehicle in a safe place.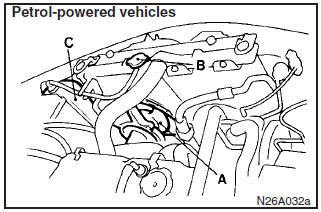 2. With the engine still running, raise the bonnet to ventilate the engine compartment.
A- Radiator fan
B- Radiator cap
C- Reserve tank
NOTE
Confirm that the radiator fan is turning. If the fan is not turning, stop the engine immediately and contact an authorized MITSUBISHI dealer for assistance.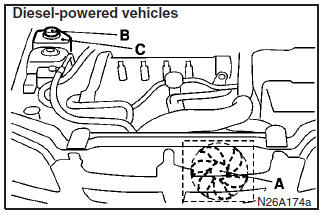 WARNING
(1) Remember under the bonnet, there can be boiling water gushing out or support bar could be burning hot. If the bonnet is opened suddenly, you could get burnt.
(2) Be careful of hot steam which could be blowing off the reserve tank cap.
(3) Do not attempt to remove the radiator cap while the engine is hot.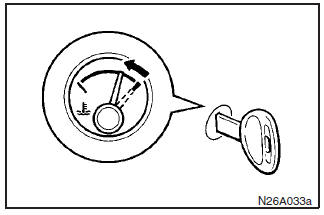 3. After the engine coolant temperature has dropped to the normal temperature, stop the engine.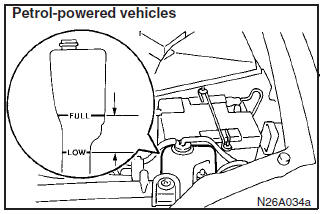 4. Check the coolant level in the reserve tank. If there is none, make sure that the engine has cooled down before removing the radiator cap, because hot steam or boiling water otherwise will gush from the filler port and may scald you.
5. Add coolant to the radiator and/or reserve tank if necessary (refer to the "Maintenance" section).
CAUTION
Adding cold water rapidly when the engine is hot could cause the cylinder head and/or block to crack, add the water a little at a time while running the engine.
6. Examine the radiator hoses for coolant leakage and the fan belts for looseness or damage.
If there is anything wrong with the cooling system or fan belt, have the problem corrected at an authorized MITSUBISHI dealer.
See also:
Warning lights
The warning light and indicator light indicate a situation where the driver should be careful and whether the various functions are activated. Warning lights The warning light indicates situatio ...
Engine number
The engine number is stamped on the engine cylinder block as shown in the illustration. A- Front of the vehicle ...
Trip information (trip computer)
Drive info Accumulated trip distance Average fuel efficiency Total driving time The trip computer mode displays information related to vehicle driving parameters including fuel e ...