Engine overheating
If the water temperature gauge indication remains in the overheating zone for a long time, the engine may be overheating. If this occurs, take the following corrective measures :
1. Stop the vehicle in a safe place.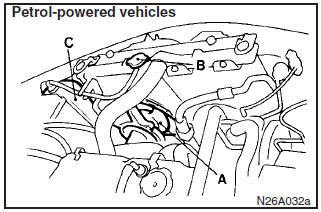 2. With the engine still running, raise the bonnet to ventilate the engine compartment.
A- Radiator fan
B- Radiator cap
C- Reserve tank
NOTE
Confirm that the radiator fan is turning. If the fan is not turning, stop the engine immediately and contact an authorized MITSUBISHI dealer for assistance.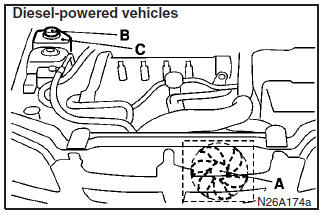 WARNING
(1) Remember under the bonnet, there can be boiling water gushing out or support bar could be burning hot. If the bonnet is opened suddenly, you could get burnt.
(2) Be careful of hot steam which could be blowing off the reserve tank cap.
(3) Do not attempt to remove the radiator cap while the engine is hot.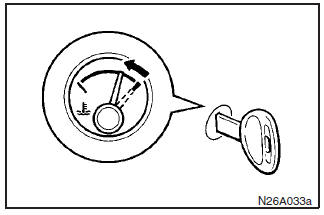 3. After the engine coolant temperature has dropped to the normal temperature, stop the engine.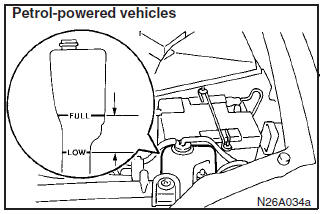 4. Check the coolant level in the reserve tank. If there is none, make sure that the engine has cooled down before removing the radiator cap, because hot steam or boiling water otherwise will gush from the filler port and may scald you.
5. Add coolant to the radiator and/or reserve tank if necessary (refer to the "Maintenance" section).
CAUTION
Adding cold water rapidly when the engine is hot could cause the cylinder head and/or block to crack, add the water a little at a time while running the engine.
6. Examine the radiator hoses for coolant leakage and the fan belts for looseness or damage.
If there is anything wrong with the cooling system or fan belt, have the problem corrected at an authorized MITSUBISHI dealer.
See also:
USB input terminal
You can connect your USB memory device or iPod to play music files stored in the USB memory device or iPod. The following explains how to connect and remove a USB memory device or iPod. Refer to t ...
Driver's and front passenger's airbag system
The driver's airbag is located under the padded cover in the middle of the steering wheel. The front passenger's airbag is contained in the instrument panel above the glove box. The driver' ...
Average fuel consumption display
This displays the average fuel consumption from the last reset to the present time. There are the following 2 mode settings. For information on how to change the average fuel consumption display s ...