Changing a fuse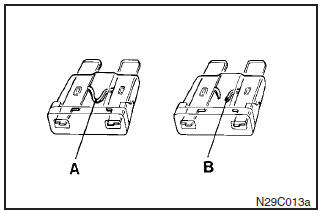 1. Before replacing a fuse, always turn off the electrical circuit concerned and turn the ignition key to the "LOCK" position.
2. Remove the fuse box cover.
3. Referring to the fuse load capacity table, check the fuse pertaining to the problem.
A - Fuse is OK
B - Blown fuse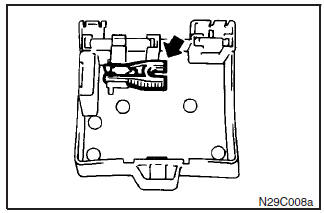 4. There is a fuse removing tool in the fuse cover of the passenger compartement. First take the fuse removing tool out of the fuse cover slowly and then by using the fuse removing tool, pull the fuse straight out from the fuse box. If it is not blown, something else must be causing the problem; contact an authorized MITSUBISHI dealer to have the problem checked.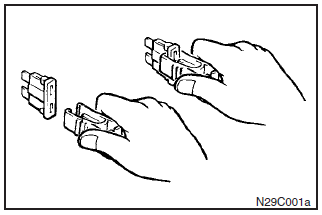 5. Insert a new fuse of the same capacity into the clip and insert the fuse at the same place in the fuse box.
CAUTION
(1) If the newly inserted fuse blows again after a short time, have the electrical system checked and repaired by an authorized MITSUBISHI dealer to find the cause and rectify it.
(2) Never use a fuse with a capacity larger than that specified or any substitute, such as wire, foil, etc.; doing so will cause the circuit wiring to heat up and could cause fire.
See also:
Power steering system
When the engine is stopped, the power steering system will not function and it will require greater manual effort to operate the steering wheel. Keep this in mind in particular when towing the veh ...
Emergency Braking
Emergency Braking The warning message, and an audible warning will warn the driver that emergency braking will be assisted. The brake assist will be activated and it helps avoiding colli ...
Washer fluid
Check the washer fluid level in the container. If the level is low, replenish as required. NOTE The washer fluid container serves the windscreen, rear window, and headlamps (if so equipped). ...