After driving on icy roads
After driving on snow or icy roads, remove any snow and ice which may have accumulated around the wheels. On vehicles that have an ABS, be careful not to damage the wheel speed sensors (A) or the cables located at each wheel.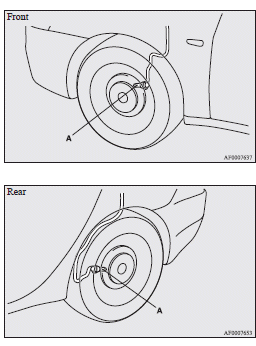 See also:
Tyres
WARNING: ● Driving with tyres that are worn or improperly inflated can result in a collision and serious or fatal injury. Tyre inflation pressures : Above 160 km/h (100 mph). Check the t ...
Seat
1-Front seat ● To adjust forward or backward → P. 2-6. ● To recline the seatback → P. 2-7. ● To adjust seat height (driver's seat only) → P. 2-8. ● Ar ...
To lock or unlock from outside the vehicle
Vehicles equipped with the key cylinder 1- Lock 2- Unlock ...