Checking battery electrolyte level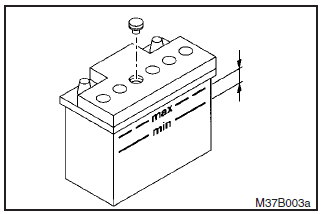 The electrolyte level must be between the "max" and "min" marks stamped on the outside of the battery. Replenish with distilled water as necessary.
The inside of the battery is divided into several compartments; remove the cap from each compartment and fill to the "max" mark. Do not over-replenish beyond the "max" mark because spillage during driving could cause damage.
Check the electrolyte level at least once every four weeks, depending on the operating conditions.
If the battery is not used, it will discharge by itself with time. Check it once every four weeks and charge with low current as necessary.
See also:
Coat hook
There is a coat hook on the rear seat assist grip of the driver's side. Warning ► Do not put a hanger or any heavy or pointed object on the coat hook. If the curtain airbag was activate ...
Safe driving techniques
Driving safety and protection against injury cannot be fully ensured. However, we recommend that you pay extra attention to the following: Seat belts Before starting the vehicle, make sure that yo ...
Engine overheating
When the engine is overheating, the information screen in the multi-information display will be interrupted and the engine coolant temperature warning display will appear. Also will blink. If th ...