Checking battery electrolyte level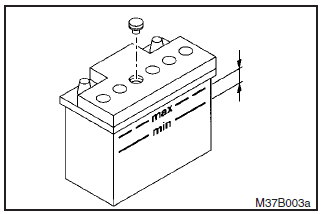 The electrolyte level must be between the "max" and "min" marks stamped on the outside of the battery. Replenish with distilled water as necessary.
The inside of the battery is divided into several compartments; remove the cap from each compartment and fill to the "max" mark. Do not over-replenish beyond the "max" mark because spillage during driving could cause damage.
Check the electrolyte level at least once every four weeks, depending on the operating conditions.
If the battery is not used, it will discharge by itself with time. Check it once every four weeks and charge with low current as necessary.
See also:
Wiper blades
Use a soft cloth and glass cleaner to remove grease, dead insects, etc., from the wiper blades. Replace the wiper blades when they no longer wipe properly. (Refer to page 9–18) ...
Changing tires
WARNING A vehicle can slip or roll off of a jack causing serious injury or death to you or those nearby. Take the following safety precautions: Never place any portion of your body under a v ...
Child restraint
When transporting children in your vehicle, some type of child restraint system should always be used according to the size of the child. This is required by law in most countries. The regulation ...