Checking battery electrolyte level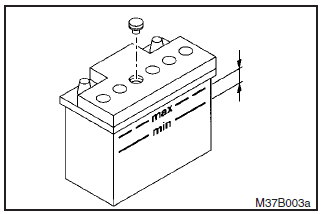 The electrolyte level must be between the "max" and "min" marks stamped on the outside of the battery. Replenish with distilled water as necessary.
The inside of the battery is divided into several compartments; remove the cap from each compartment and fill to the "max" mark. Do not over-replenish beyond the "max" mark because spillage during driving could cause damage.
Check the electrolyte level at least once every four weeks, depending on the operating conditions.
If the battery is not used, it will discharge by itself with time. Check it once every four weeks and charge with low current as necessary.
See also:
The side airbags and curtain airbags ARE DESIGNED TO DEPLOY when…
The side airbags and curtain airbags are designed to deploy when the vehicle suffers a moderate-tosevere side impact to the middle of the passenger compartment. The typical condition is shown in th ...
Inside rear-view mirror
The lever (A) at the bottom of the mirror can be used to adjust the mirror to reduce the glare from the headlamps of vehicles behind you during night driving. 1- Normal 2- Anti-glare WARNING Do ...
Tools, jack and tyre repair kit
Storage The tools, jack and tyre repair kit are stowed in the luggage compartment. The storage location of the tools, jack and tyre repair kit should be remembered in case of an emergency. 1- T ...