Parking brake lever stroke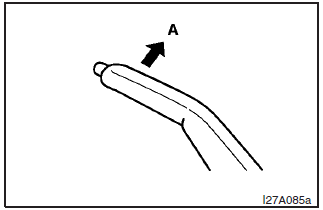 Pull the parking brake lever up to check the number of "clicks" that the ratchet makes. One click represents a lever movement of one notch. The lever should move the specified number of notches for normal brake application.
A- Parking brake lever stroke 5 to 7 notches
(Parking brake adjustment when pulled with the force of 200N)
If the parking brake lever stroke is out of the standard range, have the brake lever adjusted at an authorized MITSUBISHI dealer.