Parking brake lever stroke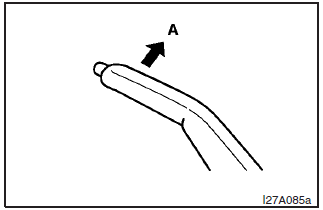 Pull the parking brake lever up to check the number of "clicks" that the ratchet makes. One click represents a lever movement of one notch. The lever should move the specified number of notches for normal brake application.
A- Parking brake lever stroke 5 to 7 notches
(Parking brake adjustment when pulled with the force of 200N)
If the parking brake lever stroke is out of the standard range, have the brake lever adjusted at an authorized MITSUBISHI dealer.
See also:
Driver's and front passenger's airbag system
The driver's airbag is located under the padded cover in the middle of the steering wheel. The front passenger's airbag is contained in the instrument panel above the glove box. The driver' ...
Fuel, engine coolant, oil and exhaust gas leakage
Look under the body of your vehicle to check for fuel, engine coolant, oil and exhaust gas leaks. WARNING If you see a suspicious fuel leak or if you smell fuel, do not operate the vehicle; call ...
Cruise control
Cruise control is an automatic speed control system that lets you keep the same driving speed. It can be activated at 40 km/h (25 mph) or more. CAUTION: ● When you do not wish to drive at a ...