Instruments and Controls (Driver's area)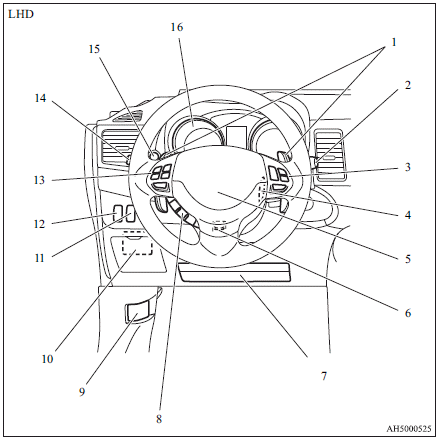 1. Shift paddles
2. Wiper and washer switch
Rear window wiper and washer switch
3. Cruise control switches
4. Ignition switch
5. Supplemental restraint system - airbag (for driver's seat)
Horn switch
6. Steering wheel height adjustment lever
7. Supplemental restraint system - driver's knee airbag
8. Bluetooth® 2.0 interface
9. Bonnet release lever
10. Fuses
11. Active stability control (ASC) OFF switch
Auto Stop & Go (AS&G) OFF switch
12. Headlamp levelling switch
13. Steering wheel audio remote control switches
14. Combination headlamps and dipper switch
Turn-signal lever
Front fog lamp switch
Rear fog lamp switch
Headlamp washer switch
15. Multi-information meter switch
16. Instruments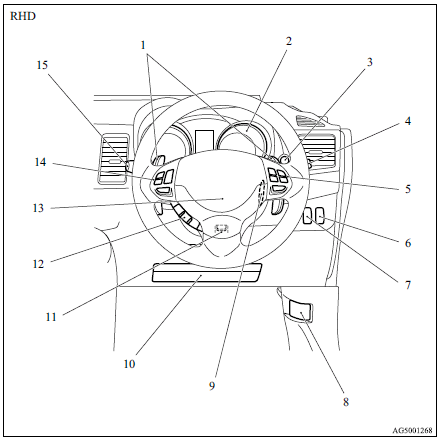 1. Shift paddles
2. Instruments
3. Multi-information meter switch
4. Wiper and washer switch
Rear window wiper and washer switch
5. Cruise control switches
6. Headlamp levelling switch
7. Active stability control (ASC) OFF switch
Auto Stop & Go (AS&G) OFF switch
8. Bonnet release lever
9. Ignition switch
10. Supplemental restraint system - driver's knee airbag
11. Steering wheel height adjustment lever
12. Bluetooth® 2.0 interface
13. Supplemental restraint system - airbag (for driver's seat)
Horn switch
14. Steering wheel audio remote control switches
15. Combination headlamps and dipper switch
Turn-signal lever
Front fog lamp switch
Rear fog lamp switch
Headlamp washer switch
See also:
To resume set speed
If the vehicle speed remains 40 km/h or higher when the auto–speed control is deactivated by operating the auto–speed control lever or by any one of the (2) to (7) conditions noted above, th ...
Fusible links
The fusible links will melt to prevent a fire if a large current attempts to flow through certain electrical systems. In case of a melted fuse link, we recommend you to have your vehicle inspected. ...
Cruise control
Cruise control is an automatic speed control system that keeps a set speed. It can be activated at speeds from about 40 km/h (25 mph) up to about 200 km/h (124 mph). Caution ► When you do ...