Instruments and Controls (Driver's area)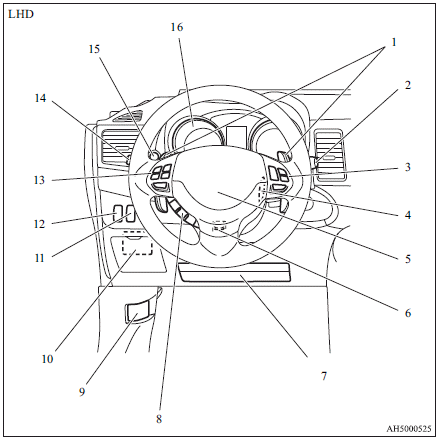 1. Shift paddles
2. Wiper and washer switch
Rear window wiper and washer switch
3. Cruise control switches
4. Ignition switch
5. Supplemental restraint system - airbag (for driver's seat)
Horn switch
6. Steering wheel height adjustment lever
7. Supplemental restraint system - driver's knee airbag
8. Bluetooth® 2.0 interface
9. Bonnet release lever
10. Fuses
11. Active stability control (ASC) OFF switch
Auto Stop & Go (AS&G) OFF switch
12. Headlamp levelling switch
13. Steering wheel audio remote control switches
14. Combination headlamps and dipper switch
Turn-signal lever
Front fog lamp switch
Rear fog lamp switch
Headlamp washer switch
15. Multi-information meter switch
16. Instruments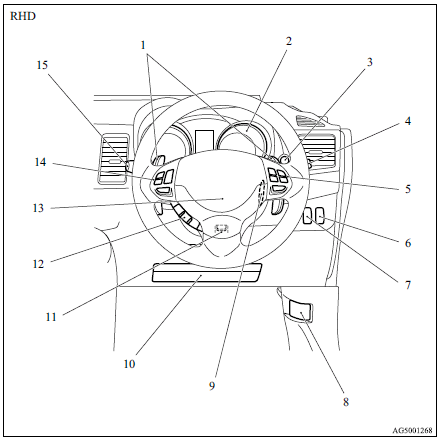 1. Shift paddles
2. Instruments
3. Multi-information meter switch
4. Wiper and washer switch
Rear window wiper and washer switch
5. Cruise control switches
6. Headlamp levelling switch
7. Active stability control (ASC) OFF switch
Auto Stop & Go (AS&G) OFF switch
8. Bonnet release lever
9. Ignition switch
10. Supplemental restraint system - driver's knee airbag
11. Steering wheel height adjustment lever
12. Bluetooth® 2.0 interface
13. Supplemental restraint system - airbag (for driver's seat)
Horn switch
14. Steering wheel audio remote control switches
15. Combination headlamps and dipper switch
Turn-signal lever
Front fog lamp switch
Rear fog lamp switch
Headlamp washer switch
See also:
Auto mode
(MITSUBISHI genuine audio only) The automatic adjustment mode can set the local time automatically by using the signal from the local RDS stations. In this mode, "CT" (A) (Clock Time: sent with ...
General maintenance
Fuel, engine coolant, oil and exhaust gas leakage Look under the body of your vehicle to check for fuel, engine coolant, oil and exhaust gas leaks. WARNING • If you see a suspicious fuel leak ...
Change of the blower speed
Adjust the blower speed by turning the blower speed selection dial clockwise or anticlockwise. The blower speed will gradually increase as the dial is turned to the right. Blower speed indicat ...