To remove the key
For vehicles equipped with a M/T, when removing the key, push the key in at the "ACC" position and keep it depressed until it is turned to the "LOCK" position, and remove it.
For vehicles with CVT or Twin Clutch SST, when removing the key, first set the selector lever (CVT) or gearshift lever (Twin Clutch SST) to the "P" (PARK) position, and then turn the key to the "LOCK" position and remove it.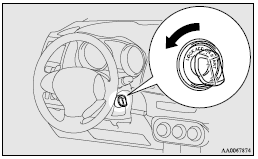 Caution
► Do not remove the ignition key from the ignition switch while driving. The steering wheel will be locked, causing loss of control.
► If the engine is stopped while driving, the brake servomechanism will cease to function and braking efficiency will deteriorate.
Also, the power steering system will not function and it will require greater manual effort to operate the steering.
► Do not leave the key in the "ON" position for a long time when the engine is not running, doing so will cause the battery to be discharged.
► Do not turn the key to the "START" position when the engine is running, doing so could damage the starter motor.
See also:
Driving, alcohol and drugs
Driving after drinking alcohol is one of the most frequent causes of accidents. Your driving ability can be seriously impaired even with blood alcohol levels far below the legal minimum. If you ha ...
Tyre chains
If tyre chains have to be used, ensure that they are fitted only on the front wheels. Use only tyre chains which are designed for use with the tyres mounted on the vehicle: use of the incorrect si ...
Brake pedal free play
Stop the engine, depress the brake pedal several times, and press down the pedal with your fingers until initial resistance is felt. This distance should be within the specified range. A- Free ...