"ASC OFF" switch
The ASC is automatically activated when the ignition switch is turned to the "ON" position. You can deactivate the system by pressing down the "ASC OFF" switch for 3 seconds or longer.
When the ASC is deactivated, the display/indicator will turn on. To reactivate the ASC, momentarily press the "ASC OFF" switch; the display/indicator is turned off.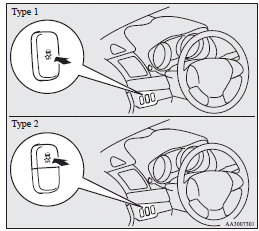 Caution
► For safety reasons, the "ASC OFF" switch should be operated when your vehicle is stopped.
► Be sure to keep the ASC on while driving in normal circumstances.

Note
► When moving out of mud, sand or fresh snow, pressing the accelerator pedal may not allow the engine speed to increase. In such situations, temporarily turning off the ASC with the "ASC OFF" switch will make it easier to move out your vehicle.
► Using the "ASC OFF" switch turns off both the stability control function and the traction control function.
► If you continue to press the "ASC OFF" switch after the ASC is turned off, the "mistaken operation protection function" will activate and the ASC will turn back on.
See also:
Protect the environment
It is illegal to pollute drains, water courses and soil. Use authorized waste collection facilities, including civic amenity sites and garages providing facilities for disposal of used oil and use ...
On a bumpy or rutted road
Drive as slow as possible when driving on bumpy or rutted roads. Caution ► The impact on tyres and/or wheels when driving on a bumpy or rutted road can damage the tyre and/or wheel. ► ...
Cleaning the upholstery and interior trim
Car interior surfaces Remove dust and loose dirt from interior surfaces with a whisk broom or a vacuum cleaner. If necessary, clean interior surfaces with a mixture of warm water and mild non-det ...