Handling of compact discs
► Use only the type of compact discs that have the mark shown in the illustration below.
(Playback of CD-R or CD-RW discs may cause problems.)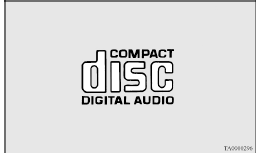 ► The use of special shaped, damaged compact discs (like cracked discs) or low-quality compact discs (like warped discs or burrs on the discs) such as those shown will damage the CD player.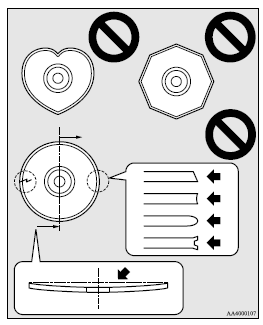 ► In the following circumstances, moisture can form on discs and inside the audio system, preventing normal operation.
• When there is high humidity (for example, when it is raining).
• When the temperature suddenly rises, such as right after the heater is turned on in cold weather.
In this case, wait until the moisture has had time to dry out.
► When the CD player is subjected to violent vibrations, such as during off-road driving, the tracking may not work.
► When storing compact discs, always store them in their separate cases. Never place compact discs in direct sunlight, or in any place where the temperature or humidity is high.
► Never touch the flat surface of the disc without a label. This will damage the disc surface and could affect the sound quality. When handling a compact disc, always hold it by the outer edge and the centre hole.
► To clean a disc, use a soft, clean, dry cloth.
Wipe directly from the centre hole towards the outer edge. Do not wipe in a circle. Never use any chemicals such as benzine, paint thinner, a disc spray cleaner, or an anti-static agent on the disc.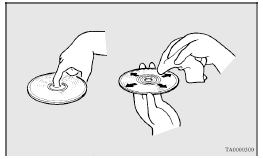 ► Do not use a ball point pen, felt pen, pencil, etc. to write on the label surface of the disc.
► Do not put additional labels (A) or stickers (B) on compact discs. Also, do not use any compact disc on which a label or sticker has started to peel off or any compact disc that has stickiness or other contamination left by a peeled-off label or sticker. If you use such a compact disc, the CD player may stop working properly and you may not be able to eject the compact disc.
Notes on CD-Rs/RWs
► You may have trouble playing back some CD-R/RW discs recorded on CD recorders (CD-R/RW drives), either due to their recording characteristics or dirt, fingerprints, scratches, etc. on the disc surface.
► CD-R/RW discs are less resistant to high temperatures and high humidity than ordinary music CDs and can therefore be damaged and rendered unplayable if left inside your vehicle for a long time.
► Depending on the combination of the writing software, the CD recorder (CD-R/RW drive), and the disc used to create a CD-R/RW, the disc might not play successfully.
► This player cannot play the CD-R/RW discs if the session is not closed.
► This player cannot play CD-R/RW discs which contain other than CD-DA or MP3 data (Video CD, etc.).
► Be sure to observe the handling instructions for the CD-R/RW disc.

Warning
► Operating the CD player in a manner other than specifically instructed herein may result in hazardous radiation exposure.
Do not remove the cover and attempt to repair the CD player by yourself. There are no user serviceable parts inside. If the CD player is not working correctly, it is recommended that you have it inspected.
See also:
SCV (Speed Compensated Volume) function
SCV function is a feature that automatically adjusts the VOLUME, BASS, MID, and TREBLE settings in accordance with the vehicle speed. The SCV function can be turned ON and OFF. Refer to "Function ...
Running-in recommendations
During the running-in period for the first 1,000 km (620 miles), it is advisable to drive your new vehicle using the following precautions as a guideline to aid long life as well as future economy ...
If your vehicle needs to be towed
If towing is necessary, we recommend you to have it done by your MITSUBISHI MOTORS Authorized Service Point or a commercial tow truck service. In the following cases, transport the vehicle using a ...