Keyless entry system
Press the remote control switch, and all doors and the tailgate will be locked or unlocked as desired. It is also possible to operate the outside rear-view mirrors.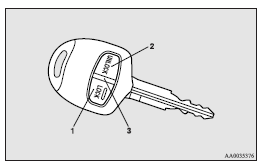 1- LOCK switch
2- UNLOCK switch
3- Indication lamp
See also:
Wiper blades
If the blades are frozen to the window glass, do not operate the wipers until the ice has melted and the blades are freed, otherwise the wiper motor may be damaged. Wiper blade rubber replacement ...
Bleeding the fuel system (diesel-powered vehicles only)
The fuel system should be bled to remove air as described below if the fuel supply is exhausted during travel. 1. Undo the four clips on the air cleaner and push the cover (B) aside. 2. Press ...
CD control panel and display
1- AM/FM button 2- CD (CD mode changeover) button 3- PWR (On-Off) switch 4- LOAD button* 5- LOAD indicator* 6- DISP (Display) button 7- PAGE (Title scroll) button 8- RPT (Repeat ...