To check the fluid level
The fluid level must be between the "MAX" and "MIN" marks on the reservoir.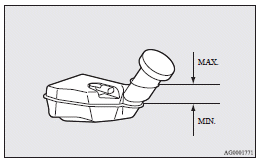 The fluid level is monitored by a float. When the brake fluid level falls below the "MIN" mark, the brake fluid warning lamp lights up.
The fluid level falls slightly with wear of the brake pads, but this does not indicate any abnormality.
If the fluid level falls markedly in a short length of time, it indicates leaks from the brake system.
If this occurs, we recommend you to have the vehicle checked.
See also:
Licence plate lamps
Remove the lens mounting screws, remove the lens, then remove the bulb by pulling out. ...
AUTO STOP
Timer AUTO STOP display shows the elapsed time of engine stop by Idle Stop and Go (ISG) system. If the ISG does not operate, the reason for the non-operation is displayed. (if equipped) ...
Vehicle labeling
1-Vehicle identification number The vehicle identification number is stamped on the bulkhead as shown in the illustration. 2-Vehicle information code plate The vehicle information code plate is ...