To check the fluid level
The fluid level must be between the "MAX" and "MIN" marks on the reservoir.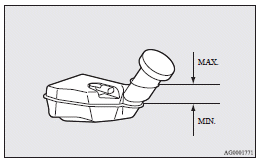 The fluid level is monitored by a float. When the brake fluid level falls below the "MIN" mark, the brake fluid warning lamp lights up.
The fluid level falls slightly with wear of the brake pads, but this does not indicate any abnormality.
If the fluid level falls markedly in a short length of time, it indicates leaks from the brake system.
If this occurs, we recommend you to have the vehicle checked.
See also:
Installing a child restraint system to a 3-point type seat belt (with emergency locking mechanism)
Installation: 1. Fasten the seat belt to secure the child restraint system. Make sure you hear a "click" when you insert the latch plate in the buckle. 2. Remove all slack by using the locki ...
To resume the set speed
If the set speed driving is deactivated by the condition described in "To deactivate", you can resume the previously set speed by pressing the "ACC RES" switch (C) while driving at a speed o ...
If a tyre is punctured
If a tyre must be changed due to a puncture, do so only after first following every precaution for safety: parking the vehicle in a place where it is not a traffic hazard or dangerous to you and y ...