To check the fluid level
The fluid level must be between the "MAX" and "MIN" marks on the reservoir.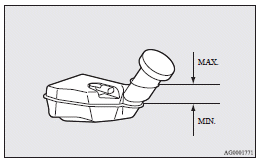 The fluid level is monitored by a float. When the brake fluid level falls below the "MIN" mark, the brake fluid warning lamp lights up.
The fluid level falls slightly with wear of the brake pads, but this does not indicate any abnormality.
If the fluid level falls markedly in a short length of time, it indicates leaks from the brake system.
If this occurs, we recommend you to have the vehicle checked.
See also:
Tire terminology and definitions
Refer to the following for detailed definitions of the terms that are found in the tire description. Air Pressure The amount of air inside the tire pressing outward on the tire. Air pressure is ...
Disposal information for used batteries
Your vehicle contains batteries and/or accumulators. Do not mix with general household waste. For proper treatment, recovery and recycling of used batteries, please take them to applicable colle ...
USB charger
The USB car charger allows drivers to charge their digital devices such as smartphones, and PC tablets. Front Plug the cable into the USB port, and charging will begin. The USB car charger i ...