Checking battery electrolyte level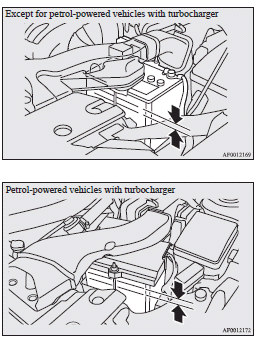 The electrolyte level must be between the specified limit on the outside of the battery. Replenish with distilled water as necessary.
The inside of the battery is divided into several compartments; remove the cap from each compartment and fill to the upper mark. Do not top up beyond the upper mark because spillage during driving could cause damage.
Check the electrolyte level at least once every 4 weeks, depending on the operating conditions.
If the battery is not used, it will discharge by itself with time.
Check it once every 4 weeks and charge with low current as necessary.

Note
► For petrol-powered vehicles with turbocharger, the battery upper cover does not need to be removed to check the battery electrolyte level.
See also:
Replacement of lamp bulbs
Before replacing a bulb, ensure the lamp is off. Do not touch the glass part of the new bulb with your bare fingers; the skin oil left on the glass will evaporate when the bulb gets hot and the va ...
Inspection and maintenance followingrough road operation
After operating the vehicle in rough road conditions, be sure to perform the following inspection and maintenance procedures: ● Check that the vehicle has not been damaged by rocks, gravel, e ...
Cargo net*
To use, attach the cargo net to the hooks as shown in the illustration. ...