Disconnection and connection
To disconnect the battery cable, stop the engine, first disconnect the negative (-) terminal and then the positive (+) terminal.
When connecting the battery, first connect the positive (+) terminal and then the negative (-) terminal.

Note
► For petrol-powered vehicles with turbocharger, remove the battery upper cover before disconnecting the terminal of battery. Refer to "Removing and installing the battery upper cover".
► Open the terminal cover (A) before disconnecting or connecting the positive (+) terminal of the battery.
► Loosen the nut (B), and then disconnect the battery cable from the positive (+) terminal.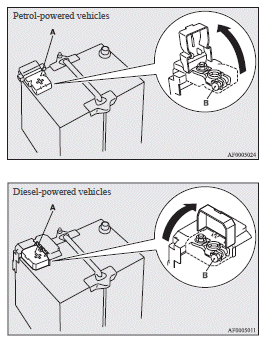 Warning
► Keep sparks, cigarettes, and flames away from the battery because the battery could explode.
► The battery electrolyte is extremely caustic.
Do not allow it to come in contact with your eyes, skin, clothing, or the painted surfaces of the vehicle.
Spilt electrolyte should be flushed immediately with ample amounts of water.
Irritation to eyes or skin from contact with electrolyte requires immediate medical attention.
► Ventilate when charging or using the battery in an enclosed space.

Caution
► Keep it out of reach of children.
► Never disconnect the battery when the ignition switch is in the "ON" position. Doing so could damage electric components.
► Never short-circuit the battery. This could cause it to overheat and be damaged.
► If the battery is to be quick-charged, first disconnect the battery cables.
► In order to prevent a short circuit, be sure to disconnect the negative (-) terminal first.
► Always wear protective eye goggles when working near the battery.
► Do not bring the nearby parts, the plastic parts and so on into contact with sulphuric acid (battery electrolyte) which may crack, stain or discolour them.
If they are in contact, wipe off with soft cloth, chamois or the like and an aqueous solution of neutral detergent then immediately rinse the affected parts with plenty of water.

Note
► Keep the terminals clean. After the battery is connected, apply terminal protection grease.
To clean the terminals, use lukewarm water.
► Check to see if the battery is securely installed and cannot be moved during travel. Also check each terminal for tightness.
► When the vehicle is to be left unused for a long period of time, remove the battery and store it in a place where the battery fluid will not freeze. The battery should be stored only in a fully charged condition.
See also:
Service precautions
Adequate care of your vehicle at regular intervals serves to preserve the value and appearance as long as possible. Maintenance items as described in this owner's manual can be performed by the ...
To apply the parking brake
1- Firmly depress and hold the brake pedal, then pull the lever up without pushing the button at the end of hand grip. Caution ► When you intend to apply the parking brake, firmly press t ...
Error codes
Vehicles with LW/MW/FM digital tuning radio with CD player/CD changer If an error code (1) appears in the display, take action in accordance with the table below. ...