Wheel condition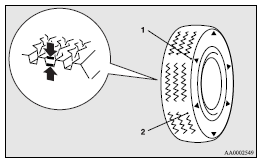 1- Location of the tread wear indicator
2- Tread wear indicator
Check the tyres for cuts, cracks and other damage.
Replace the tyres if there are deep cuts or cracks.
Also check each tyre for pieces of metal or pebbles.
The use of worn tyres can be very dangerous because of the greater chance of skidding or hydroplaning.
The tread depth of the tyres must exceed 1.6 mm in order for the tyres to meet the minimum requirement for use.
Tread wear indicators will appear on the surface of the tyre as the tyre wears, thereby indicating that the tyre no longer meets the minimum requirement for use. When these wear indicators appear, the tyres must be replaced with new ones.
On 4-wheel drive vehicles, when replacement of any of the tyres is necessary, replace all of them.

Caution
► Always use tyres of the same size, same type, and same brand, and which have no wear differences.
Using tyres of different size, type, brands or degree of wear, will increase the differential oil temperature, resulting in possible damage to the driving system.
Further, the drive train will be subjected to excessive loading, possibly leading to oil leakage, component seizure, or other serious faults.
See also:
Armrest*
The lid of the floor console box can be moved forward and backward, and used as an armrest. ...
Driving hints
► Always keep a safe distance from the vehicle in front of you. Even if your vehicle is equipped with ABS, leave a greater braking distance when: • Driving on gravel or snow-covered roads. ...
Feature of Seat Leather
Front seat Sliding: Forward and Backward Reclining: Back angle Seat cushion height Seat cushion tilt Lumbar support* Driver position memory system* Headrest Rear seat Seat b ...