Headlamps (high-beam, except for vehicles with high intensity discharge headlamps)
1. When replacing the bulb on the right side of the vehicle, remove the bolt (A) holding down the washer tank spout and move the spout towards the rear of the vehicle.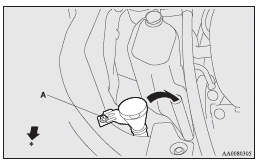 : Front of the vehicle
2. Turn the cap (B) anticlockwise to remove it.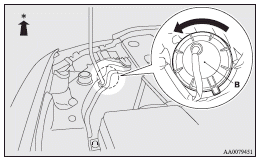 : Front of the vehicle
3. Turn the bulb (C) anticlockwise to remove it.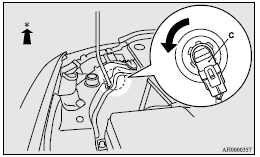 : Front of the vehicle
4. While pressing the tab (D), pull out the bulb (E).
5. To install the bulb, perform the removal steps in reverse.

Caution
► Handle halogen lamp bulbs with care.
The gas inside halogen lamp bulbs is highly pressurized, so dropping, knocking, or scratching a halogen lamp bulb can cause it to shatter.
► Never hold the halogen lamp bulb with a bare hand, dirty glove, etc. The oil from your hand could cause the bulb to break the next time the headlamps are operated.
If the glass surface is dirty, it must be cleaned with alcohol, paint thinner, etc., and refit it after drying it thoroughly.
See also:
Ashtray
CAUTION • Put out matches and cigarettes before they are placed in the ashtray. • Don't put papers and other things that burn into your ashtrays. If you do, cigarettes or other smoking mate ...
Changing the detection areas
The detection areas can be changed as follows: Vehicles with a towing bar While the operation of the system is stopped at the "SONAR" switch, push the "SONAR" switch approximately 3 second ...
Replacement of lamp bulbs
Before replacing a bulb, ensure the lamp is off. Do not touch the glass part of the new bulb with your bare fingers; the skin oil left on the glass will evaporate when the bulb gets hot and the va ...