Vehicle information code plate
The vehicle information code plate is located as shown in the illustration.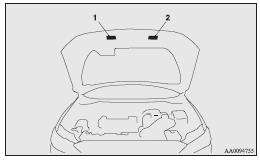 1- Except for vehicles with turbocharger
2- Vehicles with turbocharger
The plate shows model code, engine model, transmission model and body colour code, etc.
Please use this number when ordering replacement parts.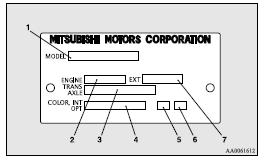 1- Model code
2- Engine model code
3- Transmission model code
4- Body colour code
5- Interior code
6- Option code
7- Exterior code
See also:
Tire sidewall labeling
This information identifies and describes the fundamental characteristics of the tire and also provides the Tire Identification Number (TIN) for safety standard certification. The TIN can be ...
Fuel gauge
The fuel gauge indicates the fuel level in the fuel tank irrespective of the ignition switch position. 0- Empty 1- Full CAUTION Do not drive with an extremely low fuel level; running out of fue ...
Inside rear view mirror
Mirrors This vehicle is equipped with inside and outside rear view mirrors to provide views of objects behind the vehicle. Inside rear view mirror Adjust the rear view mirror so that the center ...