Heated seats
The heated seats can be operated with the ignition switch or the operation mode in ON. The indication lamp (A) will illuminate while the heater is on.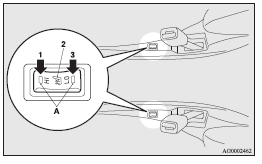 1 (HI) - Heater high (for quick heating).

2 - Heater off.

3 (LO) - Heater low (to keep the seat warm).

CAUTION
• Switch off seat heaters when not in use.
• Operate in the high position for quick heating.
Once the seat is warm, set the heater to low to keep it warm. Slight variations in seat temperature may be felt while using the heated seats. This is caused by the operation of the heater's internal thermostat and does not indicate a malfunction.
• If the following types of persons use the heated seats, they might become too hot or receive minor burns (red skin, heat blisters, etc.)
• Children, elderly or ill people
• People with sensitive skin
• Excessively tired people
• People under the influence of alcohol or sleep inducing medication (cold medicine, etc.)
• Do not place heavy objects on the seat or stick pins, needles, or other pointed objects into it.
• Do not use a blanket, cushion, or other material with high heat insulation properties on the seat while using the heater; this might cause the heater element to overheat • Do not use benzine, kerosene, petrol, alcohol or other organic solvents when cleaning the seats. Doing so could damage not only the seat cover, but also the heater element.
• If water or any other liquid is spilled on the seat, allow it to dry thoroughly before attempting to use the heater.
• Turn the heater off immediately if it appears to be malfunctioning during use.
See also:
Inside rear-view mirror
Adjust the rear-view mirror only after making any seat adjustments so you have a clear view to the rear of the vehicle. Warning ► Do not attempt to adjust the rear-view mirror while drivi ...
Handling of cassette tapes
CAUTION To maintain the cassette tape player in good condition, observe the following precautions. (1) Do not use cassette tapes longer than C-90, otherwise sound quality and tape durability wil ...
3-point type seat belt (with emergency locking mechanism)
This type of belt requires no length adjustment. Once worn, the belt adjusts itself to the movement of the wearer, but in the event of a sudden or strong shock, the belt automatically locks to hold ...