Electronic immobilizer (Anti-theft starting system)
The electronic immobilizer is designed to reduce significantly the possibility of vehicle theft. The purpose of the system is to immobilize the vehicule if an invalid start is attempted. A valid start attempt can only be achieved (subject to certain conditions), using a key "registered" to the immobilizer system.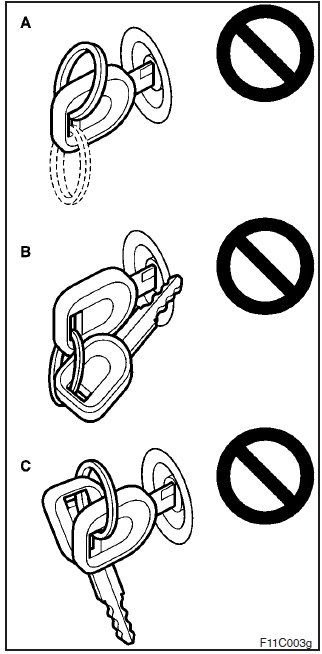 NOTE
(1) In the following cases the vehicle may not be able to receive the registered ID code from the key. This means the engine will not start even when the registered key is turned to the "START" position.
When the key contacts a key ring or other metallic or magnetic object (Type A)
When the key grip contacts metal of another key (Type B)
When the key contacts another immobilizing key, or some other transponder (Type C)
In cases like these, remove the object or additional key from the vehicle key and turn the key back to the "ACC" or "LOCK" position. Then try again to start the engine. If the engine does not start, consult an authorized MITSUBISHI dealer.
(2) Be careful not to damage the key with a cutter etc. since there is a transponder inside the key.
(3) Two keys are provided.
If you lose one of them, order a key from your authorized MITSUBISHI dealer as soon as possible.
To obtain a key, take your vehicle and any remaining keys to your authorized MITSUBISHI dealer.
If you need an extra spare key, take your vehicle and ALL the keys to your authorized MITSUBISHI dealer. Because all the keys have to be re-registered in the immobilizer computer unit. The immobilizer allows up to 8 different ID codes to be registered; you can possess a maximum of 8 keys.
CAUTION
Don't make any alterations or additions to the immobilizer system; any alterations or additions could cause failure of the immobilizer.
See also:
Luggage compartment
Vehicle with the tyre repair kit 1. Tools 2. Tyre repair kit* 3. Luggage hook 4. Jack 5. Tools 6. Luggage hook 7. Hook 8. Luggage hook Vehicle with the spare tyre 1. Tools 2. Spare whee ...
Anti-lock brake system (ABS)
The anti-lock brake system (ABS) helps prevent the wheels from locking during braking. This helps maintain vehicle drivability and steering wheel handling. ...
Wheel condition
1- Location of the tread wear indicator 2- Tread wear indicator Check the tyres for cuts, cracks and other damage. Replace the tyres if there are deep cuts or cracks. Also check each tyre for pi ...