Electronic immobilizer (Anti-theft starting system)
The electronic immobilizer is designed to reduce significantly the possibility of vehicle theft. The purpose of the system is to immobilize the vehicule if an invalid start is attempted. A valid start attempt can only be achieved (subject to certain conditions), using a key "registered" to the immobilizer system.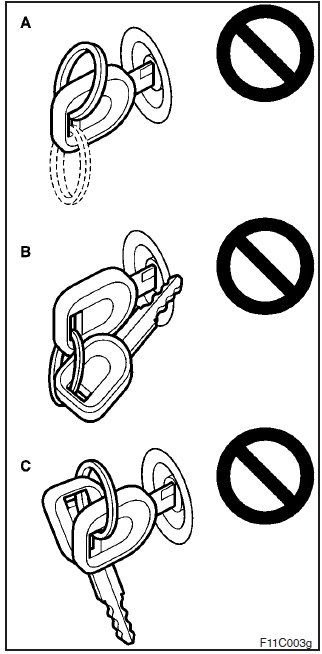 NOTE
(1) In the following cases the vehicle may not be able to receive the registered ID code from the key. This means the engine will not start even when the registered key is turned to the "START" position.
When the key contacts a key ring or other metallic or magnetic object (Type A)
When the key grip contacts metal of another key (Type B)
When the key contacts another immobilizing key, or some other transponder (Type C)
In cases like these, remove the object or additional key from the vehicle key and turn the key back to the "ACC" or "LOCK" position. Then try again to start the engine. If the engine does not start, consult an authorized MITSUBISHI dealer.
(2) Be careful not to damage the key with a cutter etc. since there is a transponder inside the key.
(3) Two keys are provided.
If you lose one of them, order a key from your authorized MITSUBISHI dealer as soon as possible.
To obtain a key, take your vehicle and any remaining keys to your authorized MITSUBISHI dealer.
If you need an extra spare key, take your vehicle and ALL the keys to your authorized MITSUBISHI dealer. Because all the keys have to be re-registered in the immobilizer computer unit. The immobilizer allows up to 8 different ID codes to be registered; you can possess a maximum of 8 keys.
CAUTION
Don't make any alterations or additions to the immobilizer system; any alterations or additions could cause failure of the immobilizer.
See also:
For smooth gearchanging
Depress the clutch pedal completely. 1st and 2nd gear: first move the gear lever fully left and then forward or back into 1st and 2nd gear. 3rd and 4th gear: move the gear lever forward or b ...
Digital clock
Automatic mode and manual mode is available for digital clock adjustment. Select the automatic mode or the manual mode by performing the following operations: A- PWR switch B- TUNE switch 1. Pre ...
Replacement of lamp bulbs
Before replacing a bulb, ensure the lamp is off. Do not touch the glass part of the new bulb with your bare fingers; the skin oil left on the glass will evaporate when the bulb gets hot and the va ...