Headlamps

NOTE
• When entering a country in which vehicles are driven on the opposite side of the road to the country in which your vehicles is supplied, necessary measures have to be taken to avoid dazzling oncoming traffic. However, headlamps on this vehicle do not need any adjustment.
• Do not leave the lights on for a long time while the engine is stationary (not running).
A rundown battery could result.
• When it rains, or when the vehicle has been washed, the inside of the lens sometimes becomes foggy, but this does not indicate a functional problem.
When the lamp is switched on, the heat will remove the fog. However, if water gathers inside the lamp, we recommend you to have it checked.
Type 1
Rotate the switch to turn on the lamps.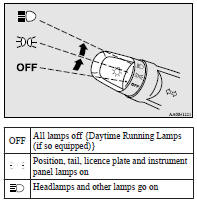 Type 2
Rotate the switch to turn on the lamps.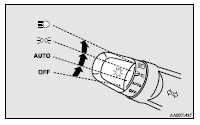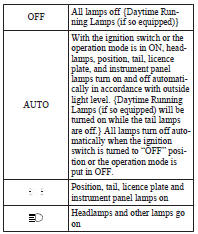 NOTE
• On vehicles with the rain sensor, the sensitivity of the automatic on/off control can be adjusted.
For further information, please contact your MITSUBISHI MOTORS Authorized Service Point.
On vehicles equipped with MITSUBISHI Multi-Communication System (MMCS), screen operations can be used to make the adjustment.
Refer to the separate owner's manual for details.
• When the headlamps are turned off by the automatic on/off control with the ignition switch in the "ON" position, the front fog lamps (if so equipped) and rear fog lamps also go off. When the headlamps are subsequently turned back on by the automatic on/ off control, the front fog lamps also come on but the rear fog lamp stays off. If you wish to turn the rear fog lamp back on, operate the switch again.
• Do not place anything on the automatic light sensor (A), and do not clean with a glass cleaner.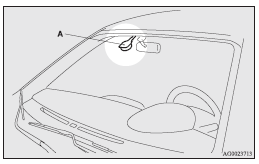 • If the lamps do not turn on or off with the switch in the "AUTO" position, manually operate the switch and we recommend you to have your vehicle checked.
See also:
Instruments and controls
► When the ignition switch is switched from "ACC" or "LOCK" to "ON", the mode setting is automatically switched from manual to auto. Switching to auto occurs automatically. If swi ...
Fuse load capacity
The fuse capacity and the names of electrical systems protected by the fuses are indicated on the inside of the fuse lid (LHD vehicles), the inside of the glove box (RHD vehicles) and inside of th ...
Automatic mode
The automatic adjustment mode can set the local time automatically by using the signal from local RDS stations. In this mode, CT (A) is shown in the display. Refer to "Radio data system (RDS)" ...